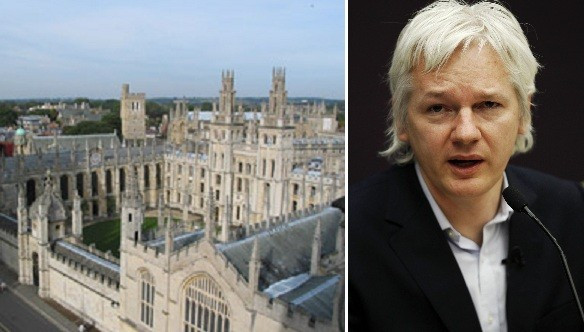 A row has broken out between students at Oxford University after WikiLeaks founder Julian Assange was invited to address its prestigious debating group, the Oxford Union.
Assange accepted the invitation and is due to appear via video-link from the Ecuadorian embassy in London, where he fled to escape sex crime allegations against him in Sweden.
His status as a sex crimes suspect and fugitive from justice triggered opposition to planned appearence later in January.
The vice-president of the Oxford Union went on Twitter to voice his concerns over Assange's appearance.
Tom Rutland said: "Someone facing a European Arrest Warrant in relation to being wanted for questioning regarding sexual offences should not be platformed."
The union moved to justify its invitation with the opportunity to interrogate the founder of WikiLeaks on the claims underlined as a positive reason.
"Mr Assange is clearly a figure who generates controversy for reasons ranging from the charges made against him in Sweden to the perceived recklessness of some WikiLeaks activities," said the union.
"We would therefore encourage those who disagree with him, or with any of our other speakers, to participate in the Q&A session."
Ahead of his video appearance, a pamphlet was issued on behalf of the 45-year-old Australian about his flight from police. Outside the Ecuadorian embassy, Scotland Yard officers have kept a vigil for six months, waiting to extradict him to Sweden for questioning.
Assange's "factsheet" is in question-and-answer format.
"If Julian Assange is innocent, why doesn't he just go to Sweden?" reads one question.
"If extradited to Sweden, Julian Assange will be immediately placed in solitary confinement, incommunicado, despite the fact that he has yet to be charged with a crime," it answers itself.
"This treatment can be seen in the recent case of Pirate Bay co-founder Gottfrid Svartholm. Mr Assange would not have had the ability to seek asylum were he to be extradited, therefore being unable to protect himself from US persecution."
Assange insists in the leaflet that he is ready to face questioning over allegations made by two women in Sweden if it takes place via video link.