As the world braces itself for the third week of Donald Trump's presidency, WikiLeaks founder Julian Assange reportedly opened up about his views on the course of the 2016 US presidential election, the role WikiLeaks played in Hillary Clinton's unexpected defeat and the Trump administration.
Dressed in a blue sweater, wrinkled green trousers and red sneakers, Assange spoke to Santiago O'Donnell from the Buenos Aires-based newspaper Página/12, from the Ecuadorian embassy in London, where he has lived under asylum since 2012. Assange spoke on a range of topics, including the much adored embassy cat as well as WikiLeaks' future.
Commenting on Trump's public image, Assange in his latest interview said: "The fact that he is a misogynist and a racist we have all seen. He has exhibited such behaviour. How much of that was sincere and how much was it to ingratiate itself with the white Republican base I do not know."
Assange likened Barack Obama and his administration to a "wolf in sheepskin", adding that Trump and his administration, in comparison, are a "wolf in wolf's skin". He said: "It is easier to deal with a wolf that is not disguised."
When asked about Trump's immigration ban and plans to build a wall at the Mexican border, Assange responded: "The wall already exists. Where there is no constructed wall, there are natural boundaries, such as deserts or rivers."
Assange said Trump's wall has a "symbolic meaning" but is not practical. "But if Latin America perceives that the United States is rejecting the region, the consequence will be that Latin America will reject the United States," he added.
WikiLeaks' role in the US election
Assange has previously reiterated that WikiLeaks' publication of Clinton documents was not intended to favour Trump and that its source of the damning materials was not Russia. It is a stance that the whistleblower continues to maintain, despite numerous allegations.
He said: "We did not publish it to favour Trump. We publish it for our own reasons. Look at it from WikiLeaks' perspective. If we have access to important information to understand how the Clinton network operates in Washington and within the Democratic Party, it is because we have assured our sources that we will publish that information in the most appropriate manner and in the context in which it may have the greatest impact. We thought we were sacrificing. I did not think the establishment was going to let Trump win."
Assange also claimed that WikiLeaks would continue publishing material pertaining to the US government, regardless of which administration remains in power. He pointed out that the transparency platform had previously also published documents from George W Bush's Republican government and will "continue" with its publication with the Trump administration as well.
Assange indicated that WikiLeaks' publication during the election may have disrupted Clinton's "intricate network" in Washington.
He said: "The destruction or marginalisation of the Clinton network in Washington can be seen in the sharp fall of large donations to the Clinton Foundation and the closure of the Clinton Global Initiative. It was a network of influential traffic in which Hillary Clinton was the one that trafficked while Bill Clinton ruled in the White House."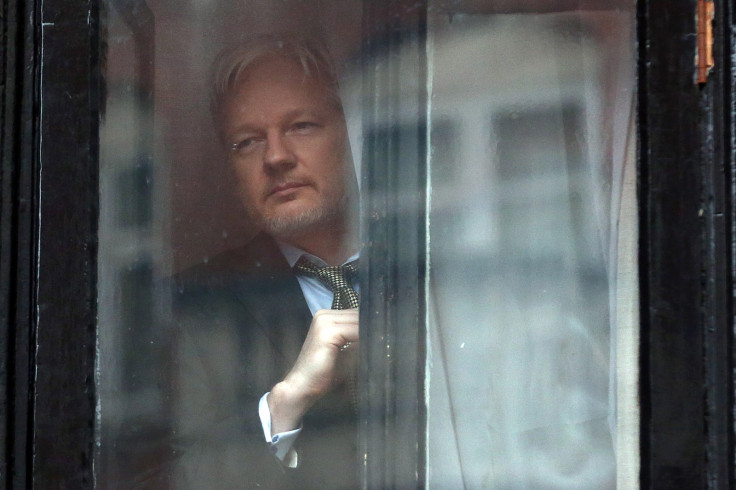 When asked about his offer to give himself up to the US government, in exchange for Chelsea Manning's freedom, Assange indicated that he stood by his previous statement. He claimed that he would deliver on his offer if the US government respected his rights.
He claimed that he wanted to "start a dialogue with the Department of Justice" and that they would "continue negotiations" once Jeff Sessions takes office. He added it was now the US government's turn to make a move.
"We believe that they should close the case against WikiLeaks, which threatens the freedom of the press. As it is being prepared, the WikiLeaks trial would be in Alexandria, Virgina, where there is the largest concentration of CIA contractors nationwide and these would form the potential jurors. There are still things to talk about," he said.
Assange's embassy cat
The much adored embassy cat, which even has its own Twitter account with over 27,000 followers, has been Assange's companion for over a year now.
Speaking about the cat's influence on his life, Assange said: "He arrived newborn a year ago and is already an adult cat. The cat has become a superstar. It is one of the most famous cats in the world. He looks out the window and the paparazzi take pictures of him. We thought it would be a good addition to the embassy and that the women who work here would like to have a kitten, but ended up wanting it too much and set up a kind of competition to take care of it."
Despite the widespread popularity both Assange and WikiLeaks gained during the US election, the future of both remains uncertain. He recently renewed his plea to the UK and Swedish governments to "restore" his freedom.
"I call on the UK and Sweden to do the right thing and restore my liberty," he said, the BBC reported. "These two states signed treaties to recognise the UN and its human rights mechanisms."
"This refusal to respect the umpire's decision comes at a terrible cost," he added. "Other states can now illegally detain Swedish and UK citizens with effective impunity and the UN human rights system more broadly is imperilled."