Julian Assange has taunted Ecuadorian presidential candidate Guillermo Lasso after the socialist candidate Lenín Moreno defeated him.
Lasso, had he won the race, pledged to remove Assange from the Ecuadorian embassy in London where the WikiLeaks founder has sought political asylum since 2012.
He said he would "cordially ask Senor Assange to leave with 30 days of assuming a mandate". He however was defeated by Moreno on Sunday (2 April) in a tightly contested run-off.
Using Lasso's own words against him, Assange tweeted on Monday: "I cordially invite Lasso to leave Ecuador within 30 days (with or without his tax haven millions)."
Assange was referencing revelations that transpired last year during the release of the Panama Papers, which named Lasso among the dozens of politicians and celebrities to stash money abroad in offshore jurisdictions using the law firm Mossack Fonseca.
At the time of the revelations, Ecuadorean state newspaper El Telegrafo reported that between $2bn (£1.6bn) to $4bn of the country's wealth was hidden abroad. Moreno's PAIS Alliance party made a clear vow to tackle the issue during the campaign.
Moreno's predecessor Rafael Correa introduced legislation in 2016 banning public officials from having assets or capital in tax havens, giving them one year's amnesty to re-introduce the money into Ecuador.
Lasso, a majority shareholder of Ecuador's Banco Guayaquil, was seen to favour scrapping the legislation had he been elected.
Following Sunday's loss, he demanded a recount of the vote claiming there were instances of election fraud and attempts to rig the result – allegations which Ecuador's election authority denied.
Moreno, who secured 51.15% of the vote, compared with Lasso's 48.85%, with nearly 99% of votes counted, has said Assange can remain in the embassy given he shows "respect in his declarations regarding our brotherly and friendly countries".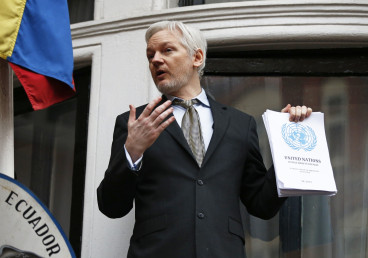 Assange remains in the Ecuadorian embassy, as he is wanted by Sweden on a number of alleged sexual molestation charges. However, Assange has adamantly denied any wrongdoing and said the charges were politically motivated to extradite him to the US, where he is wanted for his damaging work released by WikiLeaks.
In 2016, the United Nations High Commissioner for Human Rights ruled that Assange was "arbitrarily detained" by the UK and Sweden — in contravention of international law — as the statute of limitations on the charges has expired.