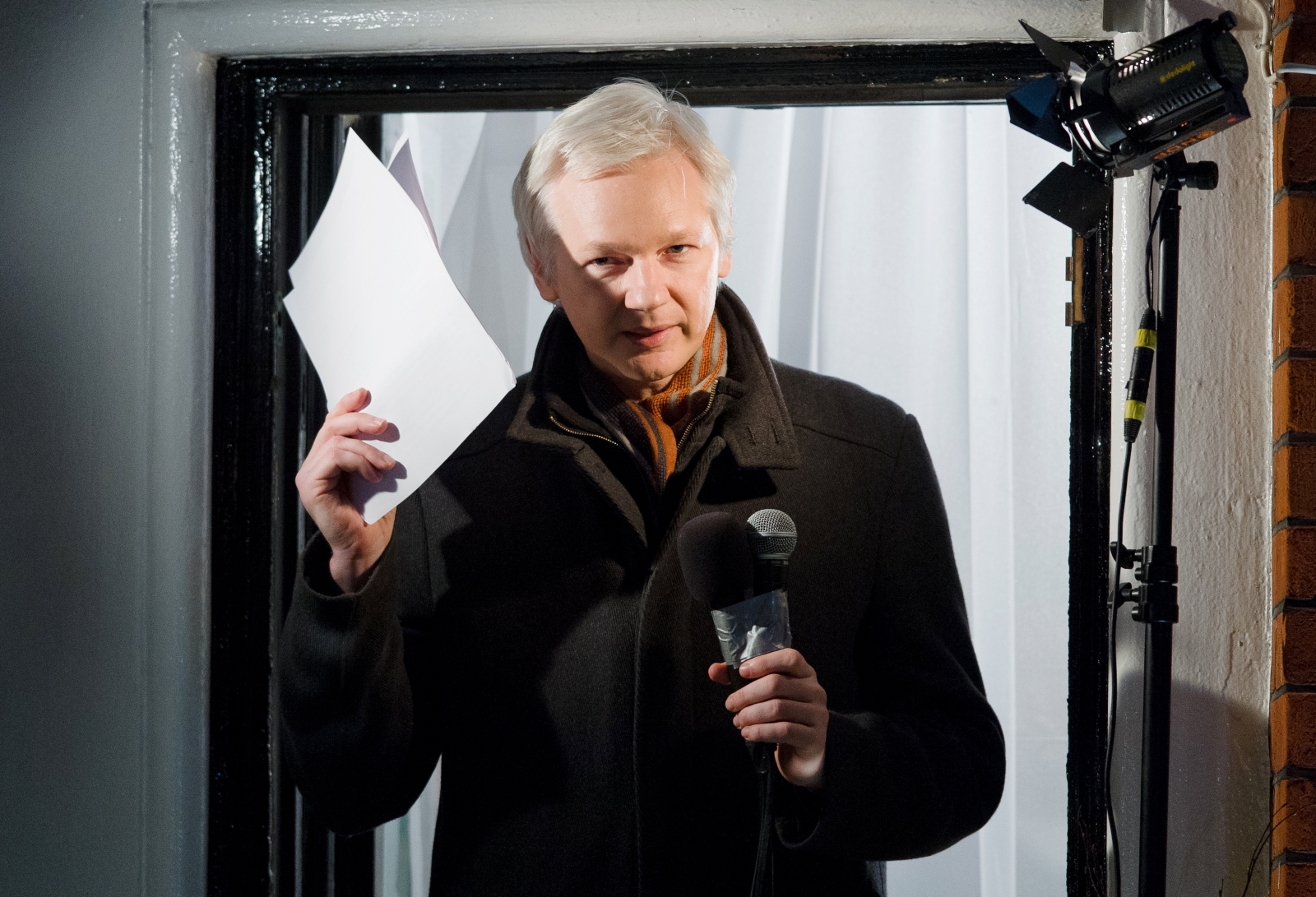 A political data-mining firm employed by Donald Trump's election campaign approached WikiLeaks during the 2016 race over Hillary Clinton's emails, founder Julian Assange said. His statement comes after the Daily Beast first reported that Cambridge Analytica chief executive Alexander Nix sought contact with Assange about the deleted emails from the former secretary of state's private server.
Nix reportedly told a third party that he had reached out to Assange about working together to release Clinton's emails, the Daily Beast reported, citing two sources familiar with a congressional investigation into ties between Trump's team and the Kremlin. Assange, however, rejected the request.
CNN reported that Nix sent an email to several people including top Trump donor Rebekah Mercer informing them about his email to Assange to gain access to Clinton's deleted emails and turn them into a searchable database for the Trump campaign or a pro-Trump political action committee.
"I can confirm an approach by Cambridge Analytica [prior to November last year] and can confirm that that it was rejected by WikiLeaks," Assange wrote in a tweet on Wednesday (25 October). He did not disclose the content of the group's request.
"We have confirmed the approach and rejection only. Not the subject," he wrote in a separate tweet.
Cambridge Analytica was hired last year as part of the Trump campaign's data operation which was led by Brad Parscale and overseen by Trump's son-in-law Jared Kushner.
Michael Glassner, executive director of the Trump campaign, said in a statement: "We as a campaign made the choice to rely on the voter data of the Republican National Committee to help elect President Donald J Trump. Any claims that voter data from any other source played a key role in the victory are false." He did not specifically mention the exchange between Nix and Assange.
The 33,000 emails deleted from Clinton's personal email were never made public. There is no evidence that WikiLeaks ever had possession of the emails.
Clinton's deleted emails and her use of a private email server during her tenure as secretary of state were both key points of contention during the presidential race. Trump and his campaign frequently attacked Clinton over the emails, often calling her "Crooked Hillary", leading to chants of "lock her up" from supporters during rallies. Trump also threatened to prosecute Clinton if elected president and publicly invited Russia to search for the emails.
During the race to the White House, WikiLeaks steadily published a trove of embarrassing emails from top Democratic officials and Clinton's former campaign chairman John Podesta's private account. Assange has denied that the source of the emails was the Russian government or any "state parties".
The revelations come as Trump's White House continues to face intense scrutiny amid the ongoing congressional investigations and special counsel Robert Mueller's probe into Russian interference in the 2016 election and alleged collusion between Trump's campaign team and the Kremlin.
US intelligence agencies concluded in January that Russian President Vladimir Putin ordered a complex influence campaign which included leaks, cyberattacks, misinformation campaigns and more to hurt Clinton's chances and help sway the vote in Trump's favour.
The Kremlin has dismissed the allegations as "baseless" while Trump has continued to denounce the Russia investigation as a "witch hunt".
Earlier in October, Cambridge Analytica said it was contacted by the House Intelligence Committee for information regarding its work for Trump's campaign as part of its investigation into Russian meddling. The company noted that it was not under investigation and said "there is no suggestion of any wrongdoing".