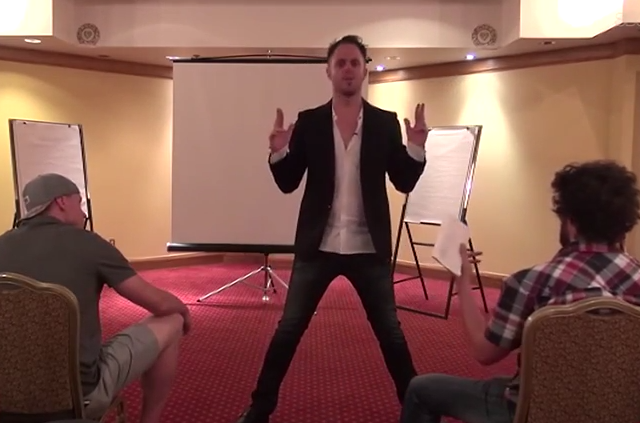 Britain's Home Office has come under increasing pressure to deny Julien Blanc, the self-proclaimed 'dating coach', entry to the UK by denying him a visa after various campaigners have called his "advice" 'sexist and racist'.
US citizen Blanc, whose 'pick-up artist' techniques includes grabbing women's heads and pushing them towards his crotch, has already had to end his Australian leg of his tour after the country withdrew his visa.
He is scheduled to conduct several 'dating advice' sessions in the UK during February next year but an online petition against Blanc has accumulated 18,400 signatures to bar him from entering the country.
"To allow this man into the UK legitimises sexual assault and predation, and sends a message that women are playthings or objects without agency," says the petition.
"Australia has already taken a stand by revoking his visa, let us demonstrate that we feel the same way about his message."
One campaigner, who uses the pseudonym Caroline Charles after receiving online abuse over her involvement in the petition said that Blanc and his company Real Social Dynamics "promotes sexist, racist and criminal approaches to women".
Who is Julien Blanc?
Blanc has become notorious around the world for perceivably aggressive techniques to snare women.
The promotion of his seminars have included using #ChokingGirlsAroundTheWorld on Twitter while his techniques have allegedly included grabbing women's faces and pulling them towards his own or his crotch.
In one video (below) he tells an audience: "At least in Tokyo, if you're a white male, you can do what you want. I'm just romping through the streets, just grabbing girls' heads, just like, head, pfft on the dick. Head, on the d**k, yelling, 'pikachu.'" He then demonstrates with a female member of the public.
The opening statement on his website also says: "Make girls beg to sleep with you after short-circuiting their emotional and logical mind into a million reasons why they should."
An article by online activist Jennifer Li in The Independent originally called him out on Twitter by alerting people to his "dangerous and abusive" techniques.
Meanwhile, hacktivist collective Anonymous have sworn to "come after the entire pick up artist community" in the wake of news that the #TakeDownJulienBlanc campaign has gone viral.