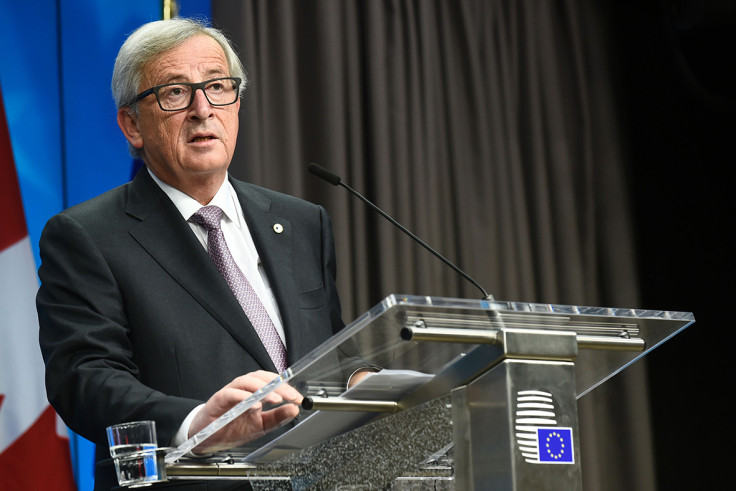 President of the European Commission Jean-Claude Juncker has renewed calls for setting up a separate army for the European continent hours after Donald Trump was elected as the 45th President of the US. Juncker said that the EU cannot rely on America in the long run as Washington would not be able to ensure security of Europeans.
Speaking in Berlin, the EU Commission chief admitted that his speech was put together keeping in mind that Hillary Clinton would enter the White House and it had to be modified because of the surprise results.
However, Juncker emphasised that transatlantic relations must be improved, but cautioned against Europe becoming the "United States of Europe".
He said: "We have to work had to keep this transatlantic relationship in order. We remain to be partners, the world needs a closer relationship between the United States and the European continent.
"We need more security in Europe, and I do not mean just the anti-terror fight. We need it now. The idea that the Americans will eternally see to...European security is not true. Independent of the outcome of the US election, the Americans will not see to Europe's security forever. We have to do it ourselves. And this is why we need a new approach to the European community of defence, including a European army."
This is not the first time that Juncker has called for Europe to embrace the idea of establishing its own dedicated army. In September, he proposed that the European Union set up a military headquarter in order to work towards an EU-controlled army during his State of the Union address to European parliamentarians.
Juncker said: "We also have to come to a new description of the cooperation on this continent. When I was young I was also enthused about the United States of Europe. We should not do this. Our people do not want to experience the United States of Europe. We should not give the expression of the EU being on the way to becoming the United Union. I cannot imagine Europe becoming a melting pot where you do not recognise nations."
He comments gained significance as Trump – who had earlier threatened to limit US's support to Nato in his campaign – would enter the White House in January. Speaking about the European nations' contribution to the Nato alliance, Trump said in an with the New York Times in July: "If we cannot be properly reimbursed for the tremendous cost of our military protecting other countries, and in many cases the countries I'm talking about are extremely rich."