The UK health secretary has made a last ditch bid to avoid a historic three day strike by up around 30,000 junior doctors across England in December. Jeremy Hunt has written to the British Medical Association (BMA) ahead of the union's industrial action ballot, which closes on 18 November.
Hunt urged Dr Johann Malawana, the chair of the association's Junior Doctors' Committee, to return to the negotiating table to discuss the NHS's controversial contract changes.
"I repeat our guarantees that no junior doctor working within legal limits will see their pay cut and that none will be required to work longer hours – in fact, to improve doctors' working conditions we are reducing the maximum number of hours that can be worked in any one week," the health secretary wrote.
"I continue to believe this is a mission on which we can work together, including by negotiating a new contract which is fairer for doctors as well as safer for patients.
"The current contract does not fairly reward staff or protect patients Therefore I urge you once against to return to negotiations and help us to deliver a solution which works for all parties."
But the BMA said the government must remove the threat of imposing the new contracts on junior doctors before Malawana returns to negotiations "The BMA has been clear that we want to get back around the negotiating table," a spokesperson for the union said.
"In order to do this the government must remove the threat of imposition and provide the reasonable assurances we need on a contract that is safe and fair, and delivers for patients, junior doctors and the NHS as a whole."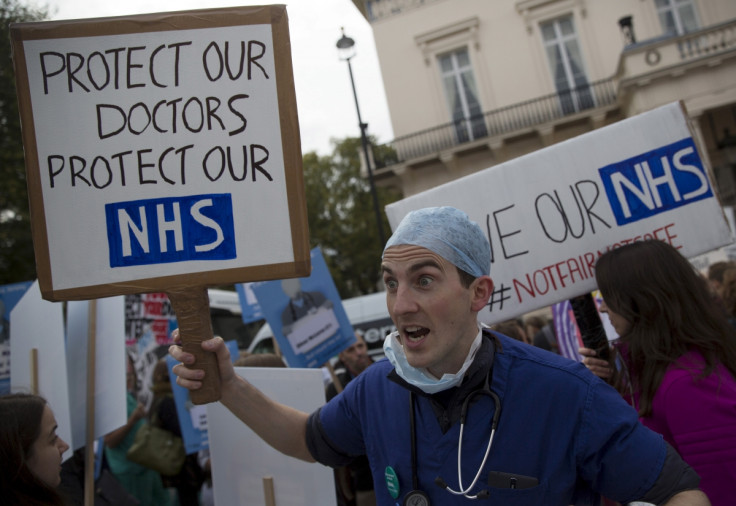 The comments came after the BMA warned that its junior doctor members could only provide emergency care on 1 December and would stage a total walkout from 8am to 5pm GMT on 8 and 16 December.
The ballot for the strike action will close at 5pm GMT on 18 November and the union told IBTimes UK that it expected to announce the result on the morning of 19 November.
The health secretary has offered the junior doctors an 11% pay rise in a bid to resolve the dispute, but some of the medics have warned that the new work agreement was more dangerous and actually left junior doctors financially worse off.
"As the new contract stands, the hardest-working junior doctors are preparing for a pay cut. The protections that prevent mistakes being made when doctors work dangerously long hours will be removed," NHS doctor Tom Riddington told IBTimes UK.
"Those doctors working less than full time because of family commitments, or who chose to take up further training in different specialities, will receive a reduction in their future pay they never expected.
"Doctors are understandably worried, and it's Hunt's response that has turned our anxieties into outrage."