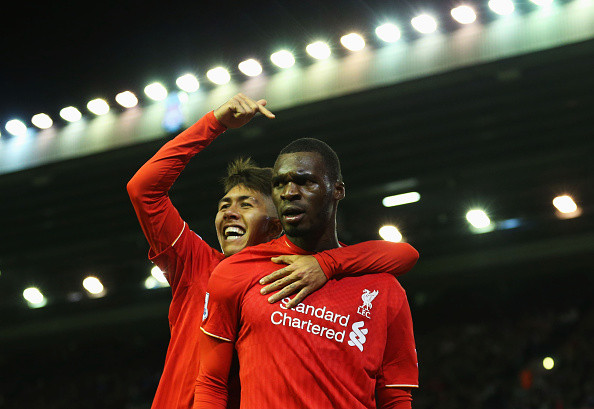 Liverpool manager Jurgen Klopp has claimed he used Roberto Firmino as his number nine ahead of Christian Benteke in their 3-1 win at Chelsea on Saturday (30 October) because the Belgium international was not "100%" fit to start following injury. The German boss insists, though, that the ex-Aston Villa man will feature in his plans for upcoming games after he made the difference, coming on in the second half of the match and assisting Philippe Coutinho for the winning goal before scoring the last to kill off the game.
Klopp has seen his team struggle to find the net since his arrival at Liverpool, due to the number of injuries to attackers, with Daniel Sturridge, Danny Ings and Benteke suffering injuries. Divock Origi covered the role in his first games in charge, but Benteke was expected to be chosen for the trip to Stamford Bridge after the player insisted he was ready to return to action.
The manager, however, opted instead to use Firmino as a 'false nine' after the Brazilian international impressed with a Man of the Match performance in the Capital One Cup victory over Bournemouth.
"The decision between Roberto and Christian... Christian is not 100%, so he needs time to play. Now he is a big step ahead so we can plan with him," Klopp explained to the club website. "He played against Southampton, then Bournemouth he couldn't – little problems. We could bring him on with fresh legs. That's perfect. Roberto is very important in this position for us because he can hold the ball, he plays between the lines and he is very creative. He can do much better, that's the good news, but it was not too bad."
The former Borussia Dortmund manager also paid tribute to Coutinho's performance after the Brazilian number 10 scored a crucial brace to cancel Ramires's early opener.
"Phil is a very good example of our situation," Klopp said. "He is brilliant – everybody knows he is brilliant. But there are moments in your life where you have to work for it to look easy. It wasn't easy, but he stood in the game and was concentrated. He made some passes that he could play much better. But when he was concentrated, he helped us and made the difference. That's very important."