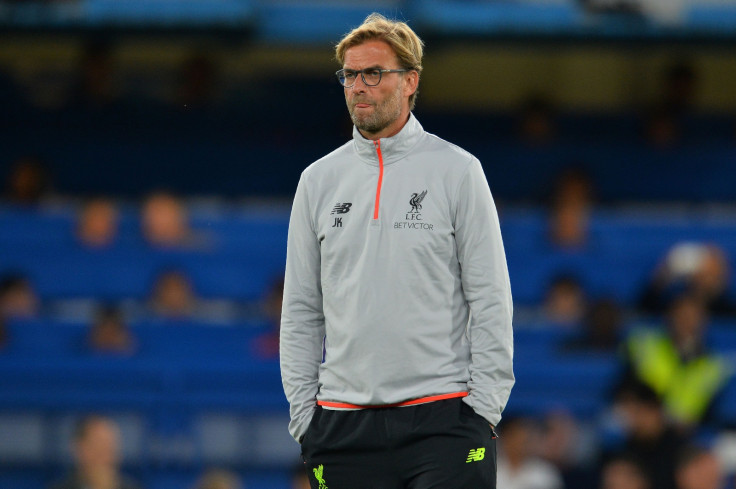 As if one really needed yet another reason to like Liverpool manager Jurgen Klopp. The affable German, widely beloved for his honesty, charisma and zany character, was the toast of footballing social media on Monday night (26 September) after giving a typically thoughtful and fascinating insight into his philosophy while appearing alongside Dave Jones and Reds legend Jamie Carragher as a special guest prior to Sky Sports' coverage of the final week six Premier League clash between Burnley and Watford at Turf Moor.
Among one of the most interesting topics of conversation between the trio was Klopp expanding upon his use of the counter or 'gegenpressing' tactic, which he claims can be more effective in terms of creating goal-scoring opportunities than operating with a classic 'no. 10'.
"It's what you have to do until you bring on the 'number 10' if you want a playmaker in a position where he can make a genius pass or not so you have to play a few passes, a few channel passes or whatever and the counter-pressing makes it exactly the same," he said, as relayed by Sky.
"We win the ball back high on the pitch and you are close to the goal so you are only one pass away from a really good opportunity most of the time so that's why I said no playmaker in the world can be as a good counter-pressing situation. It's only to show the players why it's so important. I used it again before the Hull game and we did really well in that game."
Liverpool are now second favourites behind Pep Guardiola's dominant Manchester City with many bookmakers in terms of title odds, courtesy of a hugely encouraging start to the season that has seen them beat the likes of Arsenal, defending champions Leicester City and Chelsea en route to claiming 13 points from their first six matches. Despite that impressive run, however, Klopp, who claimed he had never made a bet in his life, stressed that there remains room for improvement.
"It is as good as it should be," he added. "We are a good football side but we have to improve. Not just in set-pieces, but a lot of things. We did well against Hull, and now Swansea is the next challenge and it is a big challenge. I stand here and it feels good, it is better that we are optimistic but nothing has happened really. Football is, on good days, a nice and simple game and on bad days, you can't find a solution and that's what makes it so interesting."
Klopp touched on a range of other subjects in a number of extensive but refreshingly insightful rambles, including how the full-backs' role in his teams has altered over the years. He also admitted that Liverpool "do not think too much" about specific systems, instead wisely matching their formation to suit the players involved.
He later praised the growing influence of Roberto Firmino at Anfield and spoke on his own transition from a second division player to coach, claiming that he could have had a decent career elsewhere but "loved the game too much and wanted to be part of it". Klopp cited the late Wolfgang Frank as a key influence.