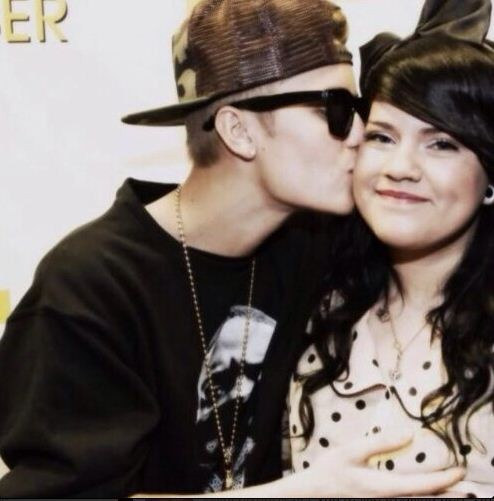 Canadian pop star Justin Bieber is back in the news... and this time for being too friendly with a female fan at a meet-and-greet session in Miami, USA. The 18-year-old singer was in the city to promote his new album - Believe Acoustic - and was photographed talking to an unidentified girl.
Unfortunately, the cameras also appeared to show Bieber with one hand on her left breast, as he was kissing her on the cheek. The singer's representative has denied any inappropriate action and claimed Bieber was actually pulling away from her.
"That definitely did not happen," a statement to E! Online read, "He was pulling away from her."
Meanwhile, the singer himself has taken to Twitter to answer allegations. He tweeted: "alot of bs has been out there lately...seems like it never stops. answering for myself thru music."
The fan, known only by her Twitter handle @JocelynnBieber, has dismissed the controversy and claimed nothing inappropriate happened.
Her tweet read: "IM DYING HAHAHAHHAHA IT LOOKS LIKE JUSTIN'S TOUCHING MY BOOB IN THE PICTURE AHAHAHAHHA."
And a second one read: "Let me clear this up for people who can't read, NO I did NOT ask Justin to touch my boobs. People can think what they want but I know what really happened & Justin does too so everyone else's opinions don't matter to me."
Inappropriate or not, 2013 has not been kind to Bieber. The teen broke up with long-time girlfriend and Disney star Selena Gomez and courted yet more controversy when he appeared in a photograph smoking what may have been marijuana. And more recently, the youngster posted a photograph of his buttocks on Instagram and Twitter.
During an interview with Billboard magazine, the Beauty and A Beat singer confessed he was struggling to get over his break-up from Gomez.
"I'm not in the happiest place that I've ever been. I'm trying to get through what I'm going through. Like I said, I have my really close friends to cheer me up and keep me going," he said, adding, "There's so many rumors. People say I call Selena every day and she won't pick up the phone or I'm chasing her down, and these are all fake stories."