Teen heartthrob Justin Bieber has been left lonely and devastated in Germany after his pet monkey Mally was taken away and quarantined by customs officials.
The singer's eccentric behaviour is worrying those close to him. Bieber insisted that the monkey accompany him on his private jet to Germany, despite strict international laws governing the transportation of live animals. Man and monkey are, apparently, inseparable. There was no paperwork on the monkey to show customs on his arrival in Munich.
The 19-year-old was detained for some time by angry customs officials who wanted to see a health certificate for Mally. Bieber did not have one.
The monkey is now in quarantine and the Canadian star could be prosecuted by German authorities and face a fine of more than £10,000.
"He and Mally go everywhere together. He will be heartbroken," a source told the Sun.
"Justin has been acting like a right diva. He is out of control and lives in an alternative reality to the rest of us.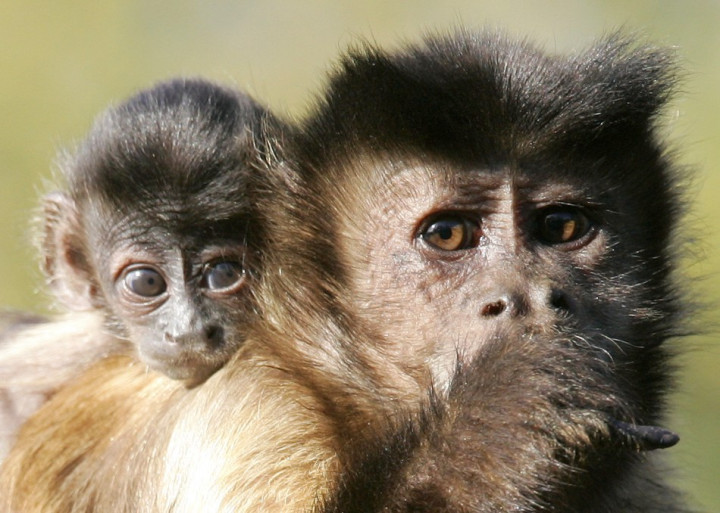 "He didn't think about the potential risks of flying a monkey from one continent to another.
"He seems as fond of Mally as Michael Jackson was of his chimp Bubbles."
It is believed that Mally is a capuchin monkey given to Bieber on his 19th birthday by music producer Jamal Rashid.
Bieber's punishing schedule may be at the root of the recent bizarre events surrounding the pop singer.
He has denied having a breakdown after he kept fans waiting for two hours at his recent O2 concert in London and then went on to rant and swear at photographers.
He also allegedly spat at a neighbour in California during a row over noise.
Apparently he said, "Get the f**k out of here. I'm gonna f**king kill you." The neighbour's wife, Suzie Schwartz, told TMZ that the young pop star is "a punk."
The neighbour said: "He thinks he's invincible. He can't continue to have a bunch of enablers around him."
Bieber isn't the first primate-loving celebrity. Michael Jackson famously had a close relationship with Bubbles, a chimp, who slept in a crib in the singer's bedroom.
The chimp also used Jackson's toilet, and watched films in the Neverland movie theatre.
However, Bubbles, like all captive chimpanzees, matured into a large and aggressive adult chimp unsuitable as a companion animal. Jackson had subsequently bought two more baby chimpanzees, Max and Action Jackson, and the public believed these two chimpanzees were also Bubbles.
The original chimp was banished from Neverland and sent to the Centre for Great Apes in Florida.