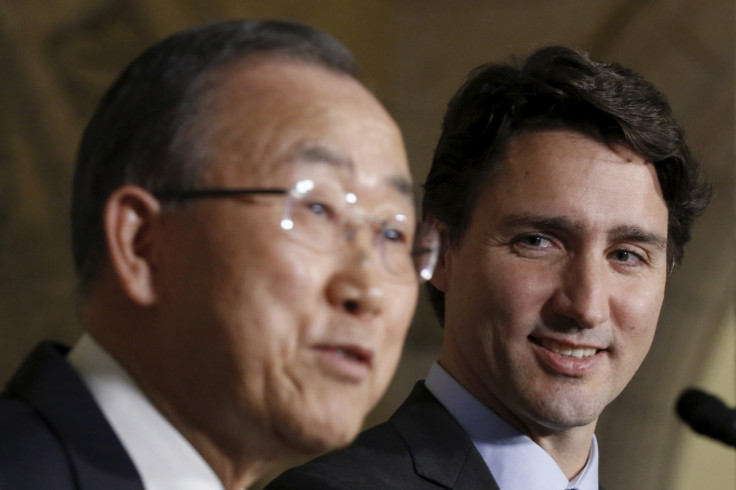 Canada's Prime Minister Justin Trudeau said he would be seeking a seat in the UN Security Council in order to "re-engage robustly" with the global community. Trudeau's intention for the bid was revealed during UN chief Ban Ki-moon's three-day trip to Canada.
The UN secretary-general, who is usually staid, appeared jubilant with Ottawa's recent plans and "enthusiastically" welcomed Canada's promise to recommit to the UN. Canada lost its two-year council term to Portugal in 2010 and ever since former Prime Minister Stephen Harper's Conservative government has been reluctant to deal with the UN. But that situation is likely to change now.
"Although I will be in Canada for only three days, we are laying plans to strengthen our collaboration for years to come," Ban told reporters at a joint press conference in Ottawa.
"The weather here is quite cold, but the relations between the United Nations and Canada are very, very warm. Since the United Nations was founded, Canada has always been one of our most important partners."
Trudeau's attempts in actively engaging with the UN would include an increased contribution towards UN peacekeeping missions and more participation from Canada in conflict zones.
"We're looking at a number of windows in the coming years. We're going to evaluate the opportunities for Canada to mount a successful bid and we will have more to say about that in due course," said the Canadian leader, without putting a specific timeline on the UN bid. Sealing a rotating, non-permanent seat on the council was one of Trudeau's election promises.
Ban was also highly appreciative of the Canadian premier, who finishes his 100 days in office, for his contributions at the climate change conference in Paris in December 2015. Recalling Trudeau's charm offensive at the summit, Ban said the Canadian's leadership skills helped in the "breakthrough" of the global agreement. "Now we need Canada to put the agreement into action and help keep the rest of the world on track," said Ban. The UN head also commended Canada's commitment to shelter 25,000 Syrian refugees by the end of February.