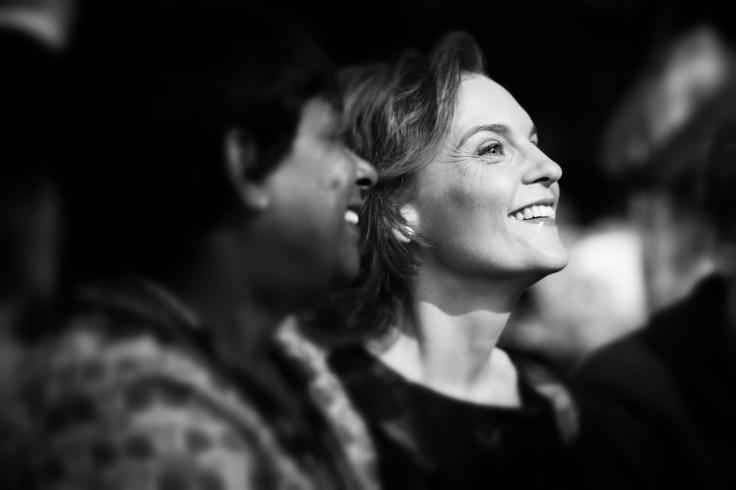 Who is Justine Miliband and is she up to the job of making husband Ed look like the leader of a nation, instead of a "weird" robot from the distant planet of Westminster?
The Labour leader's wife, on 10 March, gave her first major interview on television and it is a safe bet plenty of viewers needed the strapline along the bottom of the screen to identify who she was.
But as a high-flying environmental lawyer on around £200,000 a year at the prestigious Thirty Nine Essex Street Chambers in London, it is unlikely Justine, 45, will have had much time – or inclination – to rue this obscurity.
Having announced herself publicly, Labour's election team will hope she makes her husband look more like a regular family guy to voters. Critics of her husband will say this is a big task and numerous unflattering polls also suggest Justine has her work cut out in the public role of party leader's wife.
But her successful legal career, combined with an unconventional background in TV acting, suggests this is someone more than capable of performing strongly on camera by the side of the man who would be prime minister – her political kindred spirit.
Dysfunctional world of grown-up politics
Compared with her husband, Justine's work history is colourful, including a stint in controversial 1987 TV sitcom Hardwicke House. It was quickly pulled from screens for its portrayal of "dysfunctional" youngsters. It shall be interesting to see her performance in the dysfunctional world of grown-up politics.
It is difficult to compare Justine to other leaders' wives, partly because she has been so successful at keeping out of the public eye. But with Ed still struggling to "break through" with sceptical voters and a general election around the corner, it has evidently been decided that now is the time to emerge from the shadows.
One early impression is she has more in common with the likes of Nick Clegg's wife, Miriam Gonzalez Durantez, and Cherie Blair than with Samantha Cameron – the woman who would be turfed out of her 10 Downing Street home if Ed succeeds in May.
A focused and driven career woman, party insiders say Justine was drawn to Ed for his intelligence and not his looks when the couple met at a party in 2002. Children – Daniel and Samuel – followed in 2009 and 2010 but there were no wedding bells until 2011. This delay burnished Ed's "awkward" image because it meant his name was left off Daniel's birth certificate.
Ready to change the world
Justine has the whiff of activist advocate about her. She has said she is on a mission to "change the world through the law" and is highly rated within the legal profession as "first class".
This impressive body of work suggests she may not be satisfied with being a mere prop for her husband, an impression not dismissed by her chippy comment to party activists at the 2014 conference, when she moaned the media was only interested in what make of dress she wore.
As mother of two boys and with a declared interest in "changing the world", Justine reportedly ranks her husband third on her list of favourite things – which is several places higher up than he ranks in the affections of some Labour MPs, who reckon they have got the wrong leader.
It is doubtful political spouses have much power to win votes. But if Justine makes her husband look less like "a weird, out of touch wonk" – in the words of a favourable biographer – she would surely have earned a padded seat on Labour's pink battle bus.