Kaley Cuoco shares kissing photo with fiance: 'Can't wait to spend forever together'
Karl Cook has said that he asked Kaley Cuoco out to dinner on the very first day they met.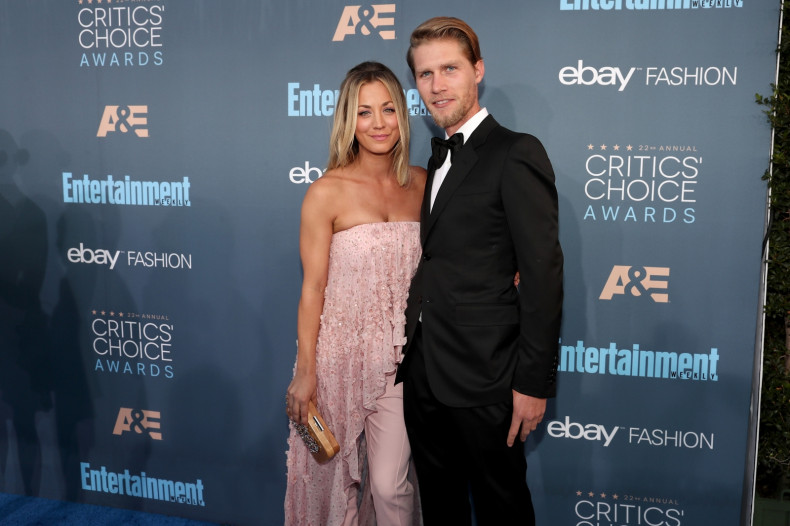 Kaley Cuoco and Karl Cook have been spotted flaunting PDA numerous times since becoming a couple in early 2016. And the duo isn't stopping soon, especially after they got engaged on Cuoco's 32nd birthday in November.
On Thursday (21 December), The Big Bang Theory actress took to social media to share a couple of photos that show her enjoying a trip to Disneyland with her fiancé and friends.
One of the snaps shows the actress and the professional riding on a horseback, smiling and sharing a kiss. Cuoco is seen in a Santa hat, matching jacket and light blue jeans, while Cook sported a black jacket, dark blue jeans and a Santa hat.
Another photo shows the two enjoying a rollercoaster ride. Cuoco is seen with her eyes closed and screaming. Cook is also seen doing the exact same thing.
Next, the couple is seen smiling for the camera, with Cuoco playing with her hair as well as Cooks' chin.
"He took me to Disneyland and it was pure magic mad love for this group that surrounds me! @mrtankcook @ashleyaubra @joelhenricks @bricuoco @lucillebryan ♥️ ❤️ @rustydusty007," Cuoco wrote alongside the picture that she has shared on Instagram.
A fan commented, "You two are so stinking cute together! Love your posts!" Another admirer added, "There is so much happiness in those photos."
Speaking about their relationship, the lovebirds told Sideline magazine, "We have been each other's true other half since day one and we can't wait to spend forever together."
Cook also revealed that they became a couple after meeting at Thermal in 2016. He said he asked her out to dinner on the very first day they met.
"We went to dinner that night and we've been together ever since," he said. "We met each other because of horses. Horses are a big part of our lives individually, and together it's amplified because it's something we share, and we can do it together."
Cuoco added that she does not know what the future holds for her after The Big Bang Theory show comes to an end. "I think about it all the time, and all I can say is it will include a lot of horses, dogs and free time with Karl. I will never be done working, since it's what I do, but I look forward to a change of pace!"