A 12-year-old girl has made a remarkable recovery after contracting a life-threatening infection caused by a brain-eating amoeba at a water park. Doctors even administered an experimental breast cancer drug in efforts to save her.
Kali Harding, from Arkansas, who was diagnosed with the disease in July, spent an hour swimming in a hospital pool, a rehabilitation physician told ABCNews.com.
The teenager's mother said the girl was terrified of entering the water: health officials suspect she was infected with the parasite while swimming in a sandy-bottomed lake at Willow Springs Water Park in Little Rock.
The amoeba, called Naegleria fowleri, that caused her infection is often found in warm freshwater. The infection destroys brain tissue and can cause brain swelling and death.
The organism begins to consume cells of the brain piecemeal by means of a unique sucking apparatus extended from its cell surface.
Esther Tompkins, Kali's doctor, told ABC: "Her mom noticed that she was somewhat fearful of water, which is obviously where she got the amoeba from.
"Her mum wanted her to work through her fear of water and the perfect place to do that was the pool at the hospital.
"She always enjoyed swimming before she got sick and her mom would like to have her enjoy that again."
Harding has made a good recovery and may be released from the hospital as soon as next month.
Tompkins said: "She's a go-getter and a hard worker: she just improves daily.
"She's still a little slow in her speech, and her memory is a little slow but that's improving. She needs to wear braces to walk and she has a little problem with balance, which produces ataxia. It makes her gait kind of unsteady."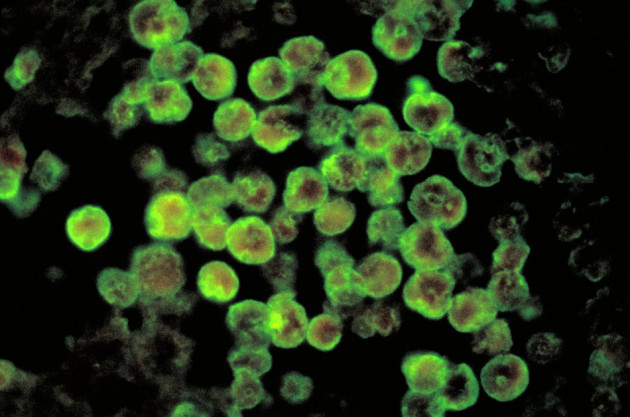 Kali began to show signs of recovery in August, uttering her first words and taking her first steps since the harrowing diagnosis.
Only two people in North America are known to have survived the rare infection, according to the US Centre for Disease Control and Prevention.
In August, Zachary Reyna, 12, of Florida was taken off life support after the water-borne parasite left him brain dead, according to a Facebook post by his family.
"Zac donated all his organs to others that were waiting on a miracle," reads the post on the Facebook page "Pray4Number4." "Through donating his organs, Zac is living on. His heart will be pumping for someone, his lungs will be taking breaths for someone and all his other organs will change the lives of many."
When people swim in warm freshwater, the amoeba can swim up their nose into the brain. Those stricken with Naegleria fowleri experience headaches, sore neck and increasingly severe vomiting. Infections will eventually lead to a coma and the vast majority of patients die within five days.