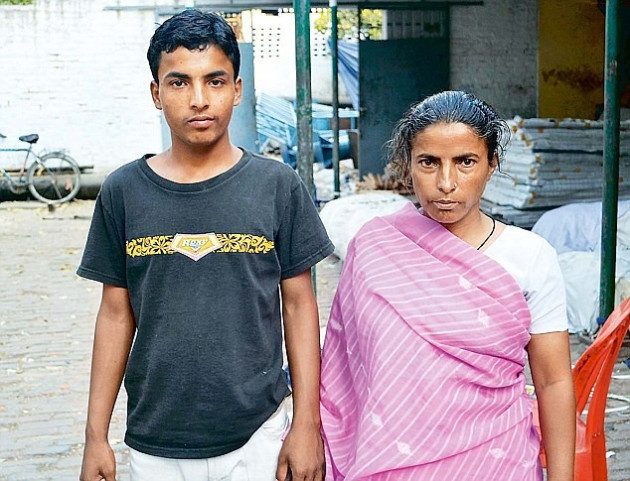 A 19-year-old Indian man has realised his life\'s dream of freeing his mother from the jail in which she has been imprisoned since she was pregnant with him.
Vijaya Kumari was five months pregnant when she was convicted of murdering a neighbour\'s child and subsequently jailed for life in the Uttar Pradesh town of Lucknow in 1994.
She named her son Kanhaiya after Hindu deity Krishna, who also first saw the light behind bars, according to religious tradition.
The same year Vijaya appealed the sentence and was granted bail. However, abandoned by her husband, she was unable to pay the Rs 10,000 (£120) surety and languished in her cell, forgotten by everyone but her son, until earlier this month.
\"The years passed without anyone coming to help me. But I had faith that my Kanhaiya [would] get me released, just as Lord Krishna got his jailed parents freed,\" Vijaya told The Indian Express.
Kanhaiya was taken to a government children\'s home in Lucknow and remained under juvenile authorities\' care until he turned 18 last year. Throughout almost two decades he visited his mother in jail at least once a fortnight.
No one else from her family, which included two sisters and two brothers, ever came.
\"My husband Kanti Prasad come to meet me once, seven years ago, only to inform me that he had re-married,\" Vijaya told the Express, revealing that their other daughter had married and their elder son had died of a dog bite.
\"I consoled myself thinking that he [Kanhaiya] was growing up somewhere,\" Vijaya said.
In July 2012 Kanhaiya found a job in a garment manufacturing factory in Kanpur about 100km from Lucknow.
As soon as he saved enough money he went back to Lucknow, found a lawyer and secured his mother\'s release upon paying bail. With the remaining money he bought her a new dress.
\"Everyone should have a son like mine,\" Vijaya told the Express.
Judges ordered an inquiry into the prison authorities\' behaviour to ascertain how \"a lady was allowed to be incarcerated in jail for 19 years only because she was unable to furnish surety bonds\".