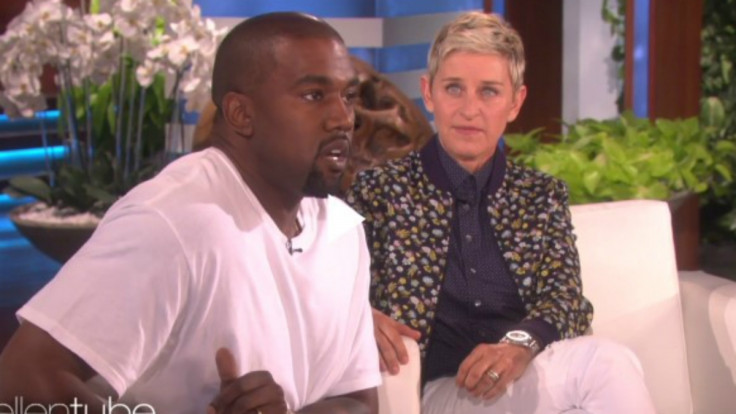 Kanye West, renown for his onstage rants made an appearance on the Ellen DeGeneres Show on 18 May where he rambled on about his struggles in the world of fashion and his passion for music, leaving the host and audience rather bemused.
The 38-year-old was promoting his latest album The Life Of Pablo but went a little off topic choosing instead to discuss his Yeezy clothing line and the #OscarsSoWhite controversy, among other vexations. Explaining why he tweeted Facebook owner Mark Zuckerberg for a $1bn loan (£682m), West told DeGeneres: "Yes, I should have put it on Facebook. Now I understand why he didn't hit me back. I understand that Zuckerberg doesn't use Twitter, even though I have had dinner with him and his wife and told him about how I wanted to help the world and he said he'd help me and blah blah blah."
He added: "I feel that if I had more resources I could help more people. I have ideas that can make the human race existence within our 100 hundred years better, period. F**k the paparazzi, whatever perception you have of me."
West expressed his irritation at entertainers being boxed into one career, stating: "We're in a renaissance period. We're in a place where people are like multi-disciplined artists. Steve McQueen that directed 12 Years A Slave, he was considered to just be a photographer, but then he won an Oscar. But that's in a place where people can only have one career, one profession throughout their entire life. So, the exact amount of emotion and colour palette and sonic and everything that I put into the music, I put into the shoes and they worked."
Revealing his ambition to become the Michael Jackson of the clothing industry, the Bound 2 rapper continued: "It's funny because I was sitting there with [President Barack] Obama and Leo's [DiCaprio] is talking about the environment and I'm talking about clothes. And everyone looks at me like that's not an important issue or something. I literally have to be Michael Jackson of apparel to break open the doors for everyone that will come after I'm gone. After I'm dead. After they call me Wacko Kanye."
Watch Kanye West's extended interview on the Ellen DeGeneres Show:
Addressing the diversity row surrounding the Oscars 2016, West explained: "I didn't take the Oscars as a joke. It was funny. It was like the moment, you know, all black actors can talk about the glass ceilings we've dealt with out in this town. You get this night, go ahead. Chris Rock is going to do it, bam. Talk about how many times you've been blocked from being able to excel. I didn't take it as a joke, it ain't no joke as Rakim said."
At various points throughout the interview, West jumps out of his seat to rap to the audience before slumping back in the chair, while DeGeneres watches on with a stunned expression. Rounding off his eight-minute rant, West told his audience: "I see the importance and the value of everyone being able to experience a more beautiful life. I'm sorry daytime television. I'm sorry for the realness."
Watch Kanye West discuss his children on the Ellen DeGeneres Show: