Kanye West left onlookers unimpressed with the launch of his Yeezy season four collection. The Fade rapper debuted his latest clothing collection on Roosevelt Island, New York on 7 September but the New York Fashion Week show descended into chaos before it even began.
West's wife Kim Kardashian and her sisters Kendall and Kylie Jenner were there but even their celebrity status were not enough to detract from the shambles. The show, which took place in the gardens of an abandoned hospital, had been due to start at 3pm but guests were reportedly kept waiting for about two hours.
Guests, models and others involved in the launch had been told to meet at 1.30pm to take buses to the location but the lengthy delay meant they were waiting for a total of four hours. It is said that those on the coaches suffered boredom with the lack of entertainment and even food or water.
Plus, the Kardashian and Jenner family were seen arriving at their seats more than an hour after the models had hit the runway.
With the focus firmly on West's new pieces, it probably wasn't the best idea to design shoes which the models couldn't walk in. Footage taken by guests shows various models stumbling, wobbling, falling over and ultimately throwing the heels off their feet as they struggled to strut down the catwalk. On one model, it looked as though the heels on a pair of thigh-high black boots had bent and collapsed while other muses seemed to walk extremely slow for fear of suffering the same fate.
Matters were only made worse by the scorching heat. Models were seen sitting at times to cool themselves down in the delay while there were several reports of the runway queens fainting. One guest tweeted alongside a photo: "A model needed water. The poor models. This is cruelty," while another post read: "Model passed out in the heat is given water by man in the audience but no one on the #YeezySeason4 team helps."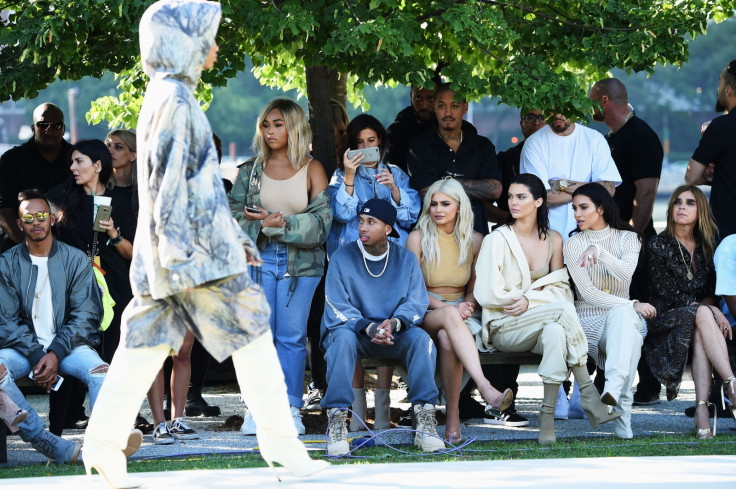 Fans watching the live stream complained that West's new collection was too similar to his previous offerings. One commented: "Every yeezy season looks the same lmao everyone gasses Kanye way too much," while another said: "Every yeezy season is exactly the same Kanye is not growing as a designer." One other critic stated: "Yeezy season 1,2,3,& 4 all look the exact same congrats Kanye."
Among the 100 models was the star of West's Fade music video Teyana Taylor while his long-time collaborator, Vanessa Beecroft, designed the show with support from Adidas, whom the rapper endorses. Other front row guests included Vogue US editor Anna Wintour, Pharrell Williams, Lewis Hamilton and Kylie's rapper boyfriend Tyga. The Yeezy season four launch had previously come under fire after West advertised for "multiracial racial women only" to audition for the show.