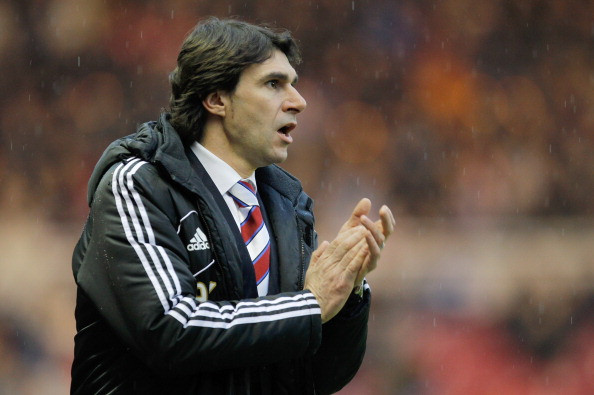 Jose Mourinho is 100 steps of his rival coaches claims his former assistant at Real Madrid, now Middlesbrough manager, Aitor Karanka.
Karanka, who plies his trade in the Championship says you only have to look at the impact the Portuguese Chelsea boss had while in Madrid when wresting the titles away from a dominant Barcelona.
Karanka, was Mourinho's right-hand during a three-season spell at Real Madrid before deciding not to follow him to Stamford Bridge and instead make his own career as a first-team manager in Teesside.
The Spaniard, whose Middlesbrough currently lie third in the Championship after 17 games of the campaign, was lavish in his praise for his former boss.
"Mourinho is the best coach in the world. He has shown it. And tactically he is a hundred steps ahead of the others," Karanka told Spanish newspaper ABC.
"At Real Madrid he made excellent tactical plans. When we had to make changes, his revolution was unique."
The Middlesbrough boss cited one Champions League clash between Los Blancos and Manchester United in 2012-13, when Mourinho's tactical decisions proved critical in seeing Real Madrid throw to the next round.
"I remember that match against Manchester United at Old Trafford (1-2). We were losing 1-0 and Mourinho was going to send on Benzema, just when Nani was sent off. In that moment he sat Karim down and said that Modric was going to play in place of Arbeloa," he said.
"Luka was decisive, he scored the equaliser. José said that he had made easy changes that nobody expects. He made a substitution and then told you what would happen. And it happened."
However, he adds that even though Mourinho failed to win the Champions League at Real Madrid, he put a stop to the best Barcelona side of all times both at the Santiago Bernabeu and before while at Inter Milan.
"He managed to stop Barcelona. He [arrived in Madrid] after stopping them with Inter. Barça had won six titles and Jose stopped them. If not for him, they would have repeated another six titles."
"In Jose's first season at Madrid we lost 5-0 there and that did us a lot of damage, but afterwards he began to change the dynamic. We won the final of the Copa del Rey against Barcelona and then we conquered La Liga with the records, winning almost every match at home.
"It was spectacular. We missed the Champions League that we lost on penalties against Bayern at the Bernabeu. It was a shame. But if anyone ended Barcelona's supremacy, it was Mourinho."