Vicente Del Bosque says Diego Costa and Cesc Fabregas May Not Return to Spain Squad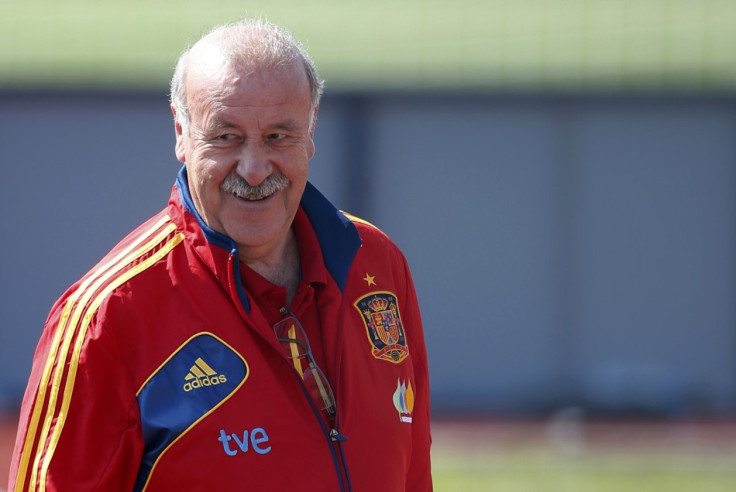 Spain boss Vicente del Bosque has sent a wary message to Chelsea duo Cesc Fabregas and Diego Costa after the pair were pulled from the latest national team squad, claiming "when they return another player maybe will have taken their places".
The Chelsea duo missed Spain's 3-0 victory over Belarus on Saturday, 15 November, and will be out of action during the friendly against Germany on Tuesday, stating they were injured.
But many people in Spain have questioned whether the Costa and Fabregas injuries are serious or just minor discomforts after the pair played with Chelsea during the 2-1 victory over Liverpool before the international break – with the striker even scoring a goal.
Del Bosque decided to rest Costa from his 23-man-squad after an agreement between the doctors from Chelsea and Spain to finally put behind him the number of injuries that have hampered his fitness since the beginning of the campaign.
Meanwhile, Fabregas was withdrawn from the squad after failing a medical by the Spanish doctors - even though they officially admitted that the scan "rejects any possibility of a hamstring injury".
Spanish star Sergio Ramos, who is one of the captains on the national team, recently questioned the commitment of the Chelsea duo to the national team, claiming he "would like to see the players have the same commitment with the national team as they do with their club" – while suggesting it is not the same to have an injury as a minor discomfort.
Del Bosque has said he believes every player is committed to the national team but has suggested that Costa and Fabregas may struggle to return to Spain in the future, as their places may be taken when they want to go.
"Maybe when Costa and Cesc return, another player will have taken their place," del Bosque said to Onda Cero.
"That's not a threat, it's reality. My responsibility has always been to search for normality, the best thing for our football".
Juventus striker Alvaro Morata has replaced Costa in del Bosque's squad for the games against Belarus and Germany, while Villarreal midfielder Bruno Soriano has filled Fabregas's vacancy.
© Copyright IBTimes 2023. All rights reserved.