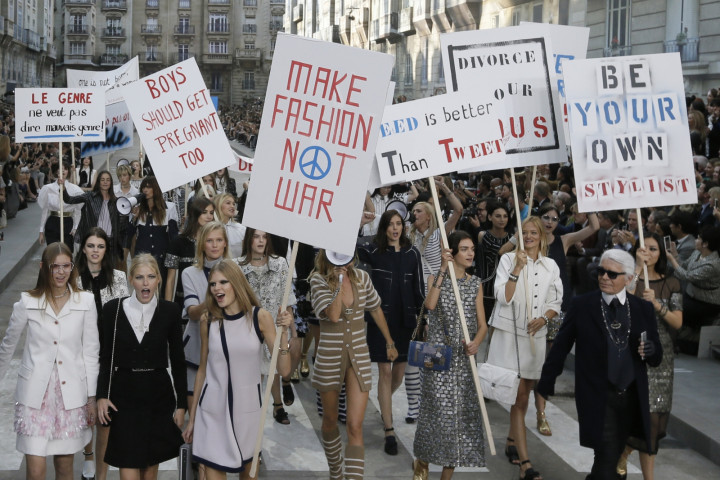 An unlikely supporter of feminism, Chanel's creative director Karl Lagerfeld staged a fake protest march for women's rights.
The German designer staged a protest at the end of his show, with models stomping along Boulevard Chanel, a French street especially created inside the Grand Palais.
Models Cara Delevingne and Caroline de Maigret held megaphones in their hands as a line of top models including Kendall Jenner, Georgia May Jagger, Edie Campbell, Joan Smalls, and Gisele Bündchen wielded signs that read "History is Her Story," "Feminism Not Masochism," "We Can Match the Machos" and "Ladies First." There was also the rather puzzling "Tweed is better than tweet".
Men also joined the 'demonstration', with male model Baptiste Giabiconi waving a "He For She" banner, popularised by Harry Potter actor Emma Watson's global UN campaign. The HeForShe Commitment is for men to take part in the fight to stop sexual violence against women.
Men are requested to join the solidarity movement: "Gender equality is not only a women's issue, it is a human rights issue that requires my participation. I commit to take action against all forms of violence and discrimination faced by women and girls."
In the past, however, Lagerfeld has been no friend of feminism. Many critics point to his outspoken comments about a woman's weight. "She is a little too fat, but she has a beautiful face and a divine voice," were his thoughts on singer Adele.
His singular views on the problems fat people bring to society: "The hole in social security, it's [because of] all the diseases caught by people who are too fat."
There have been calls for many years to introduce models who not all size zeros, but Lagerfeld opined: "Nobody wants to see curvy women on the runway."
Those who wanted to see larger-sized women on the catwalks he dismissed as the whinings of "fat mommies with bags of crisps".
Writing in the Guardian, feminist campaigner Caroline Criado-Perez said: "I don't think this suddenly means Karl Lagerfeld has renounced misogyny and embraced feminism, but I think we have to be positive about people wanting to talk about feminism, which has become such a part of popular culture that we are even seeing it in fashion shows," she said. "I think we need to embrace anything that highlights the fact that women should be equal, but they aren't.
"We live in a culture where young girls are scared of being identified as feminists, so anything that shows feminism isn't this scary horrible thing run by man-hating women has to be a positive thing."