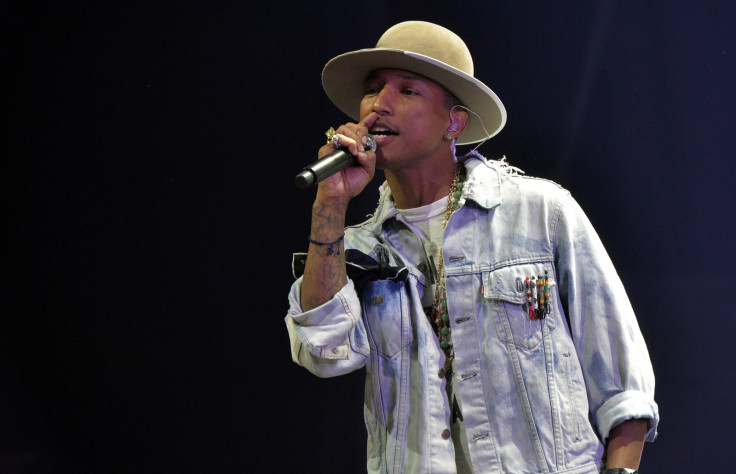 Pharrell Williams, in the middle of his Stockholm concert at the weekend, invited the leader of Sweden's Feminist Initiative Party on stage - on the eve of an election in which the Swedish left hoped to reclaim power after eight years in opposition.
"I hear you guys might actually have a feminist party tomorrow," he shouted to the crowd at the Stockholm Globe Arena, before inviting Gudrun Schyman up to join him. He then launched into his hit Happy, while she danced alongside.
Pharrell is, to say the least, an unlikely feminist. Last year, he produced Robin Thicke's enduringly-popular hit Blurred Lines which quickly caused controversy thanks to its lyrics: "I hate these blurred lines, I know you want it/I'll give you something big enough to tear your ass in two".
Since its release, he has spent much of the past 12 months trying to redeem himself by bellowing his support for women's rights from the rooftops. At London's O2 Arena in June, for example, he called on fans to start "voting differently" to close the gender pay gap.
Still, he appears to have turned over a new leaf for 2014. On the one hand, having a chart-topping star advocate feminism is a huge asset. Schyman, a talented self-promoter who relaunched her party four years ago by burning 100,000 Swedish krona in protest of unequal pay between men and women, is becoming a household name. By frolicking with Williams on stage, the party receives international attention alongside a US superstar.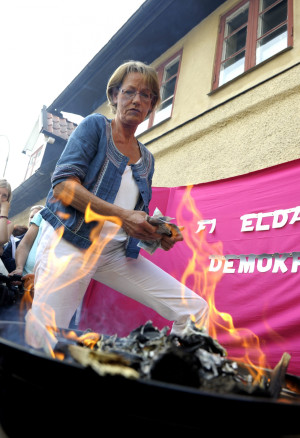 Granted, the Feminist Initiative party narrowly missed out on seats in the country's election on Sunday, but they have done exceptionally well for an all-female organisation that formed out of a pressure group in 2005.
In May, Soraya Post became the European Parliament's first-elected member of the party, and they are growing in support. Success in the future could see FI become the first feminist party to enter parliament within an EU country, and one of the minuscule number to do so globally.
Schyman is a veteran when it comes to media attention, having once come under fire for comparing female subjugation in Sweden to the Taliban in Afghanistan. She is in no doubt about the attention her party will receive for standing alongside Williams. And in return for appearing next to a feminist party, Williams receives some clemency from his past.
But, most importantly, having Williams' name behind feminism will no doubt encourage fans worldwide to think about the movement and the problems that need to be addressed, whether it is equal pay or female representation in politics.
Still, using Williams as an advocate is dangerous ground. He is not the new Germaine Greer and Happy is not a feminist anthem (also, why is his album Girls not called Women?). Along his path to feminist enlightenment, Williams has made some significant public blunders which send out the wrong message.
"I've been asked, am I a feminist? I don't think it's possible for me to be that... I'm a man. It makes sense up until a certain point. But what I do is – I support feminists. I do think there's injustices," he told Channel 4 News in May.
His understanding of feminism last weekend was also pretty unusual. "If you know you were born out of a woman's body, make some noise!" he yelled. "Somehow I feel that with you in position we won't have to worry so much about terrorism any more. You guys make life not take life."
Feminism is hip and it is marketable, which the movement can use to its advantage. But there is always the risk of undermining what it actually means. Placing Williams alongside feminism feels like a battle loss in the fight against sexism, as Williams' participation in Blurred Lines – albeit to make a quick buck – does jar alongside his apparent feminist thinking.
If he now truly understands the inequalities that women face, getting into an argument about what constitutes a good or bad feminist seems futile. Instead, we should consider the primary aim of feminists and how these ends can be achieved, whether it is ending sexist social norms or promoting the rise of feminist political parties to end the male-dominated culture of politics. If celebrities like Williams are the way to push this, then so be it.