An advertising agency has apologised after one of its staff created a road safety campaign which contained limericks about cyclists being killed and referred to them as "stupid t***s".
The campaign, created by a member of staff at the Karmarama ad agency, featured the slogan Ride Smart - Don't Die Stupid and had its own website, ride-smart.org.
The website stated: "Every year in this country there are around 19,000 reported cycling accidents on our roads, and on average 3,000 cyclists who are killed or seriously injured.
"Cyclists riding like stupid t***s cause a percentage of these accidents so lots of accidents, injuries and deaths could therefore be avoided."
The website has since been removed and replaced with a public apology, following a wave of criticism on social media and blogs about the graphic descriptions of road accidents.
The apology said: "We're very sorry for the offence caused by our efforts to create debate around the critical issue of cycling safety.
"We're hugely pro-cycling and wanted to do something that would highlight the plight of cyclists on the road, as well as open up a debate about some of the less smart practices a minority of cyclists follow, like jumping red lights.
"Again, sorry for the offence caused, it won't happen again."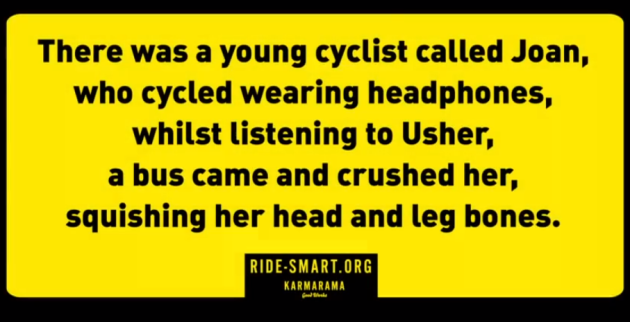 Karmarama said it was only made aware of the campaign following a number of complaints. It said it was down to an individual employed at the agency who did it of his own accord.
The agency then ordered the removal of all the fake road sign adds.
A statement from Karmarama said: "This well-intended but misjudged campaign was the initiative of a member of staff who has witnessed two horrendous cyclists deaths on the streets of London.
"As a passionate cyclist, these tragedies have affected the individual deeply and we can only presume encouraged this personal action. The individual's campaign was a personal one, not sanctioned by the company nor any of our clients.
"This individual accepts unequivocally the error of doing this and apologies profusely to all fellow cyclists and to colleagues."