Prince William and his wife Kate Middleton are "saddened and disappointed" at the decision by French magazine Closer to publish topless pictures of the Duchess of Cambridge.
Closer says the pictures will appear in its latest issue, due to be released on 14 September. A teaser of the magazine's front cover has already appeared on Closer's website, featuring pictures of Kate in a bikini apparently about to remove her top.
The pictures were taken with a long lens when William and Kate were staying at the French chateau of the Queen's nephew, Lord Linley, a week before their Asia Pacific tour.
According to a report from the BBC Paris bureau, the pictures are blurry but the person in them is clearly the Duchess.
"The Duke and Duchess are saddened their privacy has been breached. It's turned the clock back 15 years," palace officials told Sky News.
"They woke up to the story this morning (and) have seen the photos, which were taken at a private hotel by a private swimming pool."
It is reported that several British newspapers were offered the pictures, but all declined the opportunity to publish.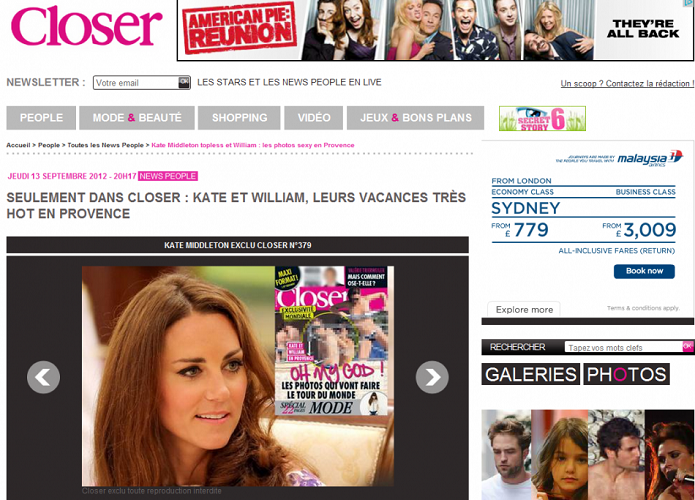 Twitter war
News of the images has sparked arguments on Twitter, with users on both sides having their say.
"We can say that after tomorrow's Closer, Harry will feel less alone ..." Closer's editor Laurence Pieau tweeted.
The comment has drawn angry reactions from fans of the Duchess.
"This is the vile person responsible for publishing invasive photos of Kate Middleton. It's like sexual abuse. Shame on you," said a tweet.
"so it's not enough that the Paparazzi killed Princess Diana in Paris, now French editor @LaurencePieau condones perverted photos of Kate," tweeted another user.
William and Kate are currently on a nine-day tour of South East Asia and the South Pacific as part of the Queen's Diamond Jubilee celebrations.
In Malaysia, the duchess gave her first overseas speech when she visited a hospis which gives palliative care to terminally ill patients.