Kate Middleton has helped launch Children's Mental Health Week as the royal patron of Place2Be, an organisation which works within schools to provide early support. The Duchess of Cambridge recorded a special video message on the occasion in which she called for prioritising the emotional well-being of children.
"Every child deserves to grow up now in potential and feeling confident that they cope with life's setbacks," Kate, 34, said at the start of her video message on Children's Mental health Week (8-14 February) recorded at Salusbury Primary School in in Queen's Park. "This resilience or ability to deal with stressful situations is something we begin to learn in childhood as we respond to each challenge and problem life presents," the Duchess said.
"Many of us are incredibly fortunate that the issues we face in childhood are ones we can cope with and learn from but for some children learning to cope with life's challenges can be a struggle. While we cannot always change a child's circumstances we can give them the tools to cope and to thrive. With early support they can learn to manage their emotions and feelings and know when to seek help."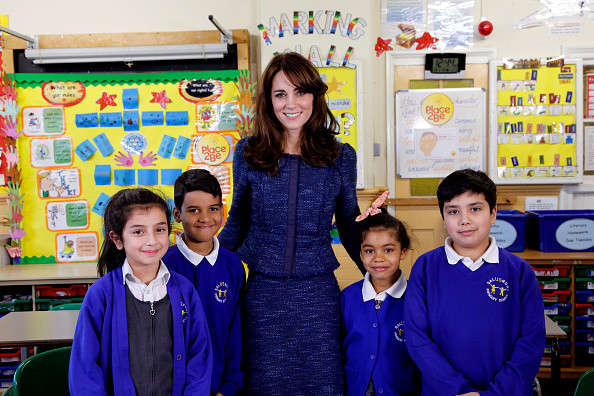 The mother of two future heirs added: "A child who has overcome challenges with proper emotional support will emerge stronger. Through my work in areas like addiction I have seen time and again that the roots of poor mental health in adulthood frequently stem from unresolved childhood issues. This needs to change."
The Duchess of Cambridge, who is working to draw wider public attention to children's mental health, said Prince William and she feel that every child deserves to be supported through difficult times. She praised the efforts by Place2Be, of which she is the patron since 2013, in this regard. Kate added that she is "incredibly proud to be their patron".
"Schools are uniquely placed to provide emotional support, working with children and their families. This is something that Place2Be understand," she said. "This Children's Mental Health Week, we want to support schools to prioritise the emotional well-being of their students alongside academic success. By ensuring every child is given the emotional support they need, we are giving them a firm foundation for the happy, healthy future they deserve," she added.