The Duke and Duchess of Cambridge have expressed their sense of outrage after learning that a rhino was shot dead by poachers at an Indian park, on the same day the royal couple toured the area to highlight conservation. Less than 10 hours after Prince William and Kate Middleton went on a jeep safari in Kaziranga National Park during their six-day royal tour of India and Bhutan, poachers killed the animal and removed its horn.
Forest rangers discovered the male rhino's carcass, along with almost 100 shell casings from an AK-47 on Thursday (14 April) morning. It's believed to be the sixth rhino to be killed by poachers in Kaziranga in Assam this year.
Kaziranga divisional forest officer Subhashis Das told the Indian Express newspaper: "One adult male rhino was killed near the Patahi Beel water-body under the Borghop anti-poaching camp in the Burrapahar range. The incident occurred at around 11.10pm on Wednesday.
"Our forest guards who rushed to the spot on hearing of gunshots were engaged in an exchange of fire with the poachers, but the culprits managed to escape under the cover of darkness." Footage obtained by ITV News shows the adult greater one-horned rhino covered in blood and with its horn hacked off.
The royal couple were staying in a lodge around 12 miles away from the spot where the animal was killed. They had earlier visited the nearby Centre for Wildlife Rehabilitation and Conservation (CWRC) where the Duchess fed bottled milk to an orphaned rhino calf, describing the experience as a highlight of her trip to the world heritage site. William and Kate also spotted several fully grown rhinos during the jeep safari.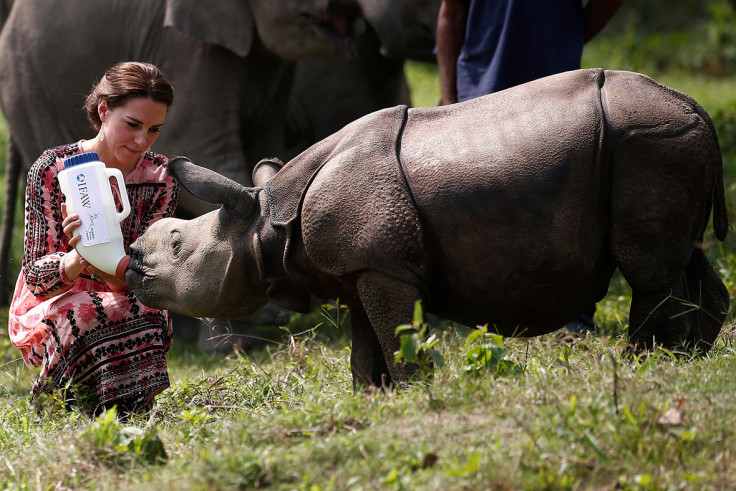 The killing of the endangered species shocked the royal couple, with Prince William said to be "appalled" by the reports. A Kensington Palace spokesman said: "The Duke and Duchess were angry to hear about the killing of this rhino during their visit. They hope their time in Kaziranga encourages others to support the brave rangers that are protecting animals that are so important to the communities that surround the national park."
Kaziranga is home to over 2,400 one-horned rhinos. Last year, 20 rhinos were killed there by poachers for their horns which are sold on to customers in China, Vietnam and other countries where people incorrectly believe that the ground rhino horn can treat rheumatism and impotence. Poachers can earn up to £212,000 a kilogram for the substance.
Kensington Palace told ITV News that the Duke of Cambridge is planning to fund training and equipment for rangers, through his charity United for Wildlife.