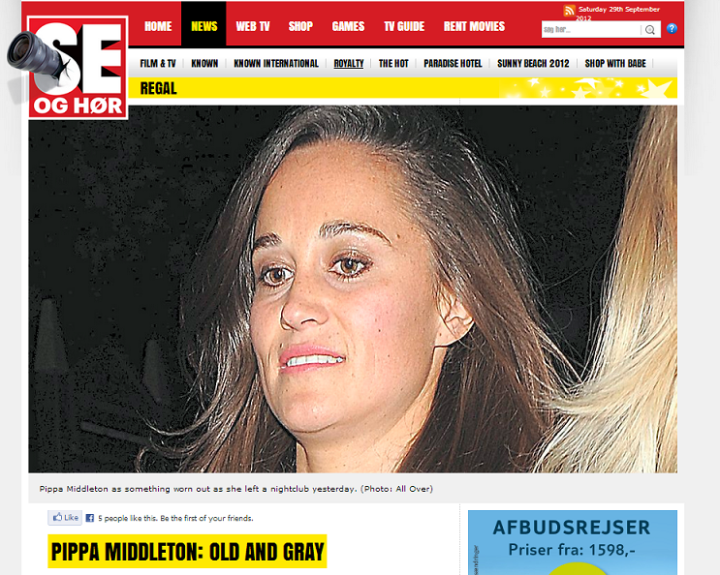 Not happy with invading Kate's privacy by splashing intimate snaps of her bare body on its pages, Danish gossip magazine Se og Hor has turned on her sister Pippa Middleton.
Se og Hor's website ran a savage story sniping at the younger Middleton as "old and gray" in the headline.
Se og Hor ran an image of Pippa, 29, enjoying a night out with friends.
But it then compared the snap harshly with another picture of her, taken at a official bash recently.
But later in article the magazine surprisingly gets tongue-twisted - by coyly referring to Pippa's bottom as "popo."
Readers might be surprised at this outbreak of blushes from a magazine which happily splashed intimate shots of Kate semi-naked on its pages - images even it labelled "infamous."
'The infamous breast pictures of Kate Middleton was said to have taken their toll on the duchess," said the magazine.
'But maybe the whole case also forces the rest of the family. Anyway, Kate's sister, Pippa Middleton, in a very short time come to look gray and old.'
Pippa Middleton leapt to fame at the wedding of Kate Middleton and Prince William, last year.
Her duties as chief bridesmaid and more importantly the dress she wore while carrying them out, brought instant fame.
The 29-year-old's derriere was the the focus of much adulation. It was widely praised and even sparked a new cosmetic surgery trend of women asking their doctors for "a Pippa."
Party organiser Pippa lives in up-market Chelsea in central London.
How to stand out from her sister is a challenge which Pippa tried to confront by throwing herself into her business.
She recently published a book entitled Celebration about how to throw your own parties - on a smaller budget than last year's royal wedding.