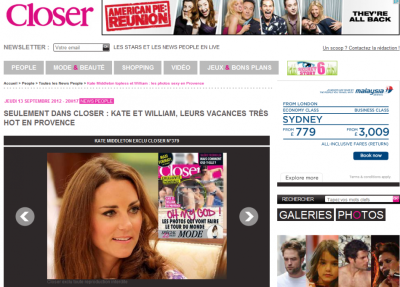 Hot on the heels of naked images of Prince Harry playing strip pool during a trip to Las Vegas leaked online, topless images of Kate Middleton are causing a royal stir.
The French magazine Closer has angered the royal family by publishing a series of photographs of the Duchess of Cambridge sunbathing topless with Prince William during the royal couple's recent holiday to the South of France.
Complete with the headline "Oh my God!" the teaser photos, available on the magazine's site, show the duchess removing her bikini top before relaxing on a sun-lounger.
The blissfully unaware couple are seen relaxing in the secluded 19th-century hunting lodge in Provence. The lodge is owned by the Queen's nephew, Viscount Linley.
The shots, apparently captured with a long lens, have reignited a debate over the privacy of Britain's royal family and the freedom of the press.
Buckingham Palace's lawyers are said to be considering legal action.
The Duchess of Cambridge is not the first, and probably will not be the last, royal to be snapped revealing a little too much.
IBTimes UK has a look at other red-faced royals who have found themselves caught up in a paparazzi scandal.