The Duke and Duchess of Cambridge visited one of Australia's stunning beaches where they met some of the city's young life guards.
Accompanied by Australian Prime Minister Tony Abbott, William and Kate watched a surf life-saving demonstration by the New South Wales Surf Life-Saving Nippers' club.
Wearing a broderie anglaise dress by Australian designer Zimmerman, and four inch Russell and Bromley wedges the Princess even treated onlookers to a Baywatch-style run along the beach, as she started a race between eight youngsters.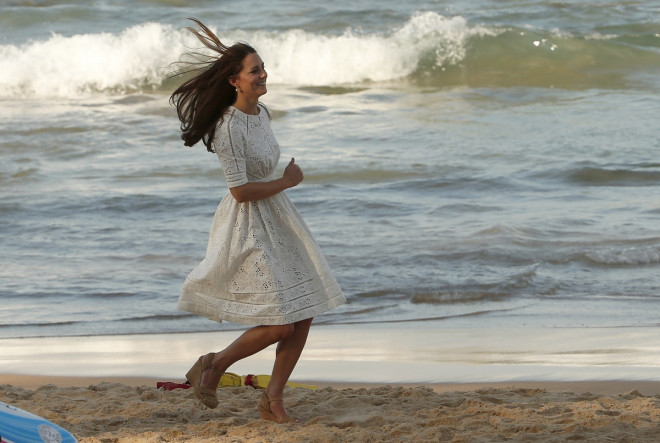 Meanwhile, surrounded by 96 life-savers all dressed in distinctive pinks vests, Prince William joked as he was greeted by them: "You've got freezing hands."
Junior life saver Robbie Worner, 13, said the royal couple asked his advice about training Prince George as a surfer.
"They both seemed really nice and very interested in what we were doing," he said. "They talked about how they'd love to do it and they asked if George should start training now or wait a bit."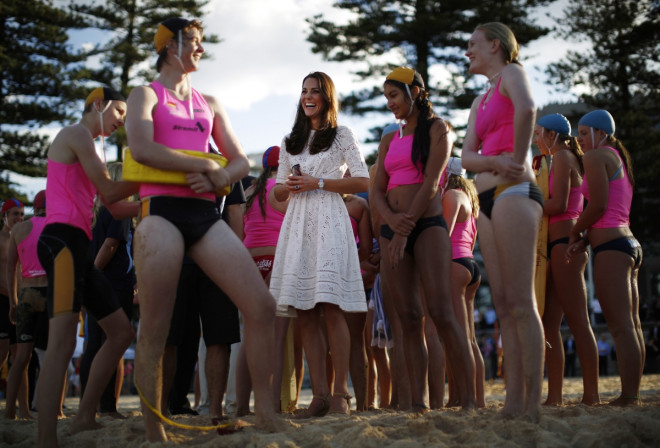 Naomi Flood, 28, a coach and Olympic kayaker who showed the Duke around, said: "We talked about him surfing, and he said he is not very good. I suggested maybe he come back and we'll teach him how to surf, and he thought that was a good idea."
The royal couple were presented with a customised surfboard for Prince George, much to their delight.
Jean Hay, the mayor of Manly, who presented them with the gift said: "The Duchess said 'Oh good, we're looking forward to being able to use it, because we all love the water'. "
Earlier the royal couple were moved to tears on meeting children and bereaved parents at the Bear Cottage Hospice.
The Duke and Duchess have been travelling Australia and New Zealand as part of their official 19-day tour.