The Duke and Duchess of Cambridge arrived in Warsaw today (17 July) to commence their five-day tour of Poland and Germany with their two small children, Prince George and Princess Charlotte.
Kate and William, both 35, were in high spirits as they stepped off the plane and greeted by a welcoming committee at Warsaw Chopin Airport amid light rain showers.
The royal couple also dealt with their somewhat apprehensive children with confidence, with William having to coax a super shy George, 3, to exit the plane and come down the steps.
The toddler gripped onto his father's hand firmly as he observed all of the new faces before him with a wide-eyed expression. At one point, doting dad William leant down to give him a few words of encouragement, to which George, dressed in a cute checked shirt and shorts outft, seemed to respond positively to.
Princess Charlotte, 2, dealt with the situation with confidence, giving onlookers a big cheeky smile in her adorable red printed dress as her mother carried her.
Despite all eyes being on George and Charlotte, it was difficult to ignore the duchess' incredible outfit by one of her go-to designers, Alexander McQueen.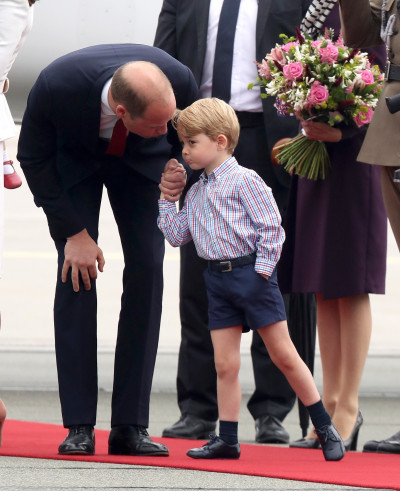 The mother-of-two showcased her figure in the ivory twill peplum coat and matching skirt featuring a flattering frill at the waist and retails at £1,995.
It was also another opportunity for the duchess to show off her newly-cut hairstyle which complimented the stylish ensemble.
The young royal family's trip – taken at the request of the Foreign and Commonwealth Office – is being seen as another Brexit diplomacy tour in a bid to strengthen the UK's relations with Europe as it leaves the EU.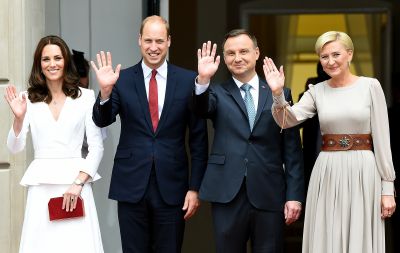 Kate and William were later seen without the children during an outdoor walk with President Andrzej Duda and his First Lady Agata Kornhauser-Duda where all four were seen laughing as the royal couple took in their surroundings at the gardens of the Presidential Palace.
The duke and duchess were spotted in public just yesterday (16 July) at the men's singles Wimbledon final in which Roger Federer became the first man in the history of the Wimbledon Championships to lift the title eight times.