The look on Kate Middleton's face said it all, as Andy Murray crashed out of Wimbledon.
The reigning champion, who was defending his title, was defeated by Grigor Dimitrov in straight sets in the quarter-finals.
And it was clear who Kate was rooting for as she watched the match with Prince William.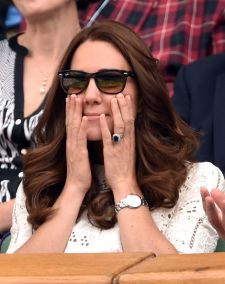 There was no denying the look of worry, near panic and resignation etched on the Duchesses face, as defeat looked increasingly inevitable for Murray.
Looking on through dark shades from the Royal Box, Kate grimaced through the nail-biting match as Murray lost the first two sets.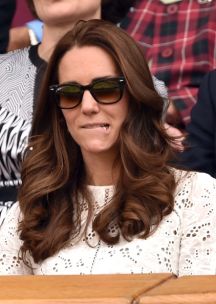 In a summer where England have already faced defeat in the world cup, losing to Italy and Uruguay, the Duke and Duchess of Cambridge were left despondent as they watched Murray bow out of Wimbledon.
The defeat ended Murray's 17-match All England Club winning streak and was his first slam loss to a player ranked outside the top 10 in four years.
It comes after he ended Fred Perry's 77-year reign as the last British man to win the singles title last year.
The tennis star said after the match on BBC One: "I'm disappointed, especially disappointed with the way I started the match."
While there wasn't much success on the court, Kate certainly did her best to win in the sartorial stakes.
The Duchess looked Wimbledon ready in a white, cotton appliqué dress that flattered her slim figure.