Kate Middleton has revealed that her angelic daughter Princess Charlotte has a "feisty" side. The Duchess of Cambridge made the comments as she interacted with guests at a reception at Guildhall in the City of London after attending the National Service of Thanksgiving for the Queen's 90th birthday at St Paul's Cathedral.
The mother-of-two was chatting to Glynis Double, who happened to mention just how adorable Princess Charlotte, who recently celebrated her first birthday, is.
"As a mum myself I asked her about her children and said what a pretty little thing we all thought Princess Charlotte was," Mrs Double explained. "She said: 'Oh she is very cute but she has got quite a feisty side.'"
"I then asked her about George and she said he was a really lovely little boy. She said she hopes that George will keep Charlotte in order!"
Mrs Double, who was accompanying her husband, Paul, who is the City's Remembrancer, said she had not expected to have an opportunity to mingle with the royals adding that it was a 'real honour' to speak to the Duchess who was the centre of attention in a custom-made powder blue coat dress by Catherine Walker.
"It was such a surprise to be introduced to her and she was just lovely - and very, very beautiful," she said. "She kept on asking if we had enough to eat - and I told her we hadn't stopped since we arrived! As my husband has been involved in organising the event I really couldn't be prouder. What a fabulous day."
1800 people gathered for the royal reception which was attended by the senior members of the Royal Family including Princes William and Harry, the Duke of York and his daughters Princess Beatrice and Princess Eugenie, The Earl and Countess of Wessex, and their children, Lady Louise and James, Viscount.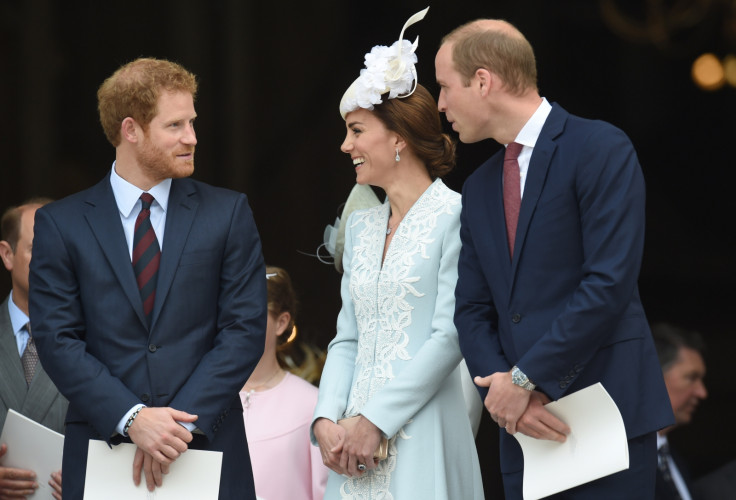 The event was attended by a star-studded congregation comprising David Attenborough, Clare Balding, former prime ministers John Major and Tony Blair and senior figures of the Cabinet including Chancellor George Osborne,Labour leader Jeremy Corbyn and PM David Cameron.
In a rousing speech, The Lord Mayor of London praised the Queen for her dedication to the British people saying you could fill the carriages on the new Elizabeth underground line 'many millions of times over, with lives The Queen has touched.... [people] who cherish our Queen. Who look to her for strength, serenity and faith for the future.
"Ladies and Gentlemen – it is certainly with gentleness, good humour and understanding that, against the shifting sands of societal change, Her Majesty so wonderfully exemplifies the advantages of a Constitutional Monarchy," he added.
Meanwhile, Mail Online reports that Prince Harry told Grenada High Commissioner Karl Hood "the best birthday present for the Queen would be to have a day off, so she could lie about and do nothing."