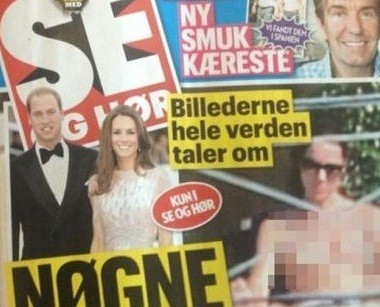 Danish gossip magazine Se Og Hoer has denied it plans to publish yet more humiliating pictures of Kate semi-naked within its pages.
Reports emerged that the glossy title was poised to run a second raft of the illicitly taken snaps.
Se Og Hoer sparked controversy by running a series of revealing snaps of Kate sunbathing topless with husband Prince William, last week.
The shocking pictures were published in Demark and in Sweden by its sister title.
But a statement by chief editor Kim Henningsen denied the magazine was poised to embarrass the royal couple all over again.
A spokesman for publishing house Aller insisted it had no plans for a second release.
"There have been rumours in international media that Se Og Hoer has published new topless and nude pictures of Kate, the Duchess of Cambridge," he said.
"This is not correct."
News that yet more pictures of the Duchess of Cambridge in a state of undress at a chateaux in southern France are not to be published will come as a relief to the royal family.
But Se Og Hoer did not halt the torment completely.
It launched a savage attack on Kate's sister Pippa by labelling her "old and grey" on its website.
Buckingham Palace was rocked by topless images of Kate, first published in French Closer.
Royal lawyers launched and won legal action to ban the pictures in France, which it branded grotesque.
But that failed to quell the storm, as Italian gossip magazine Chi published a selection of the images in a special edition.