Kate Middleton has officially returned to her royal duties after taking a brief maternity leave following the birth of her second child, Princess Charlotte. Despite making appearances at Wimbledon and the Queen's birthday celebration, the Duchess has kept a relatively low profile since welcoming Prince George's little sister on 2 May.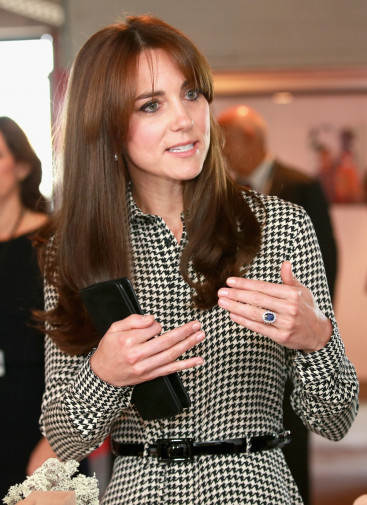 Today, the 33-year-old royal made her way to the Anna Freud Centre in London for her first official solo engagement.
For the outing the royal fashionista choose a dogtooth print Ralph Lauren shirt dress. She accentuated her petite waistline with a black belt and completed the look with black heels and a black clutch bag. The occasion was also the perfect opportunity for her to show off her chic new hairstyle. Earlier in September she unveiled a long fringe.
The Duchess checked in with the charity which is working to lead a step change in children's and young people's mental health care, as she continues her campaign to raise awareness about children suffering mental health problems and other difficulties.
Ahead of her visit, Peter Fonagy, the charity's chief executive said: "It's a very significant step on our journey to try and establish a good mental health for children and young people in England.
"On the site we are on just here, we will construct a centre of excellence and it will have a school at its heart, as well as mental health services surrounding it, alongside cutting edge research facilities in collaboration with UCL."
Back in March, the mother-of-two released a statement to mark the Time to Mind campaign – a project set up by The Times that calls for greater investment in child mental health services.
"I have been heartened to see that so much progress has been made in ending the taboo of adults openly treating mental well-being as the health issue it is," the message to the newspaper read. "I believe that our generation of parents, carers, teachers and health workers now have the chance to give the mental health of our children the focus it requires."