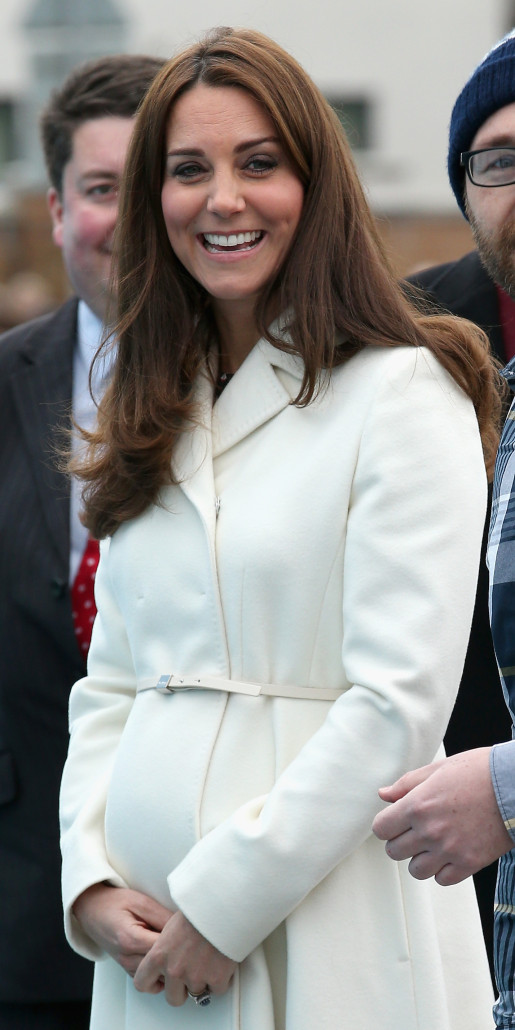 After demonstrating her ukulele skills during a private visit to a children's hospice, Kate Middleton showed off her creative side once again by joining a group of schoolchildren for a mural painting session in Portsmouth.
The Duchess of Cambridge, who is almost seven months pregnant with her second child, was positively glowing as she visited the headquarters of Ben Ainslie Racing in Portsmouth, in her capacity as Royal Patron of the 1851 Trust.
She was joined by Olympic sailing champion Sir Ben Ainslie, who also works closely with the charity which encourages young people to get involved in sailing.
Fresh from the Middleton holiday to the Caribbean island of Mustique, where Prince George, the Duke of Cambridge and her family celebrated the 60th birthday of her mother Carole, Middleton looked tanned and relaxed in a cosy cream coat from Max Mara. She completed the look with navy blue pumps with matching clutch and freshly blow-dried hair.
It is the 33-year-old royal's first official engagement since touching down on home soil earlier this week.
"I feel very fortunate to have enjoyed sailing from a young age and I know it is a great way of providing young people with the opportunity to develop skills and confidence," she said in a statement.
"It is a hugely exciting time for sailing as the British challenger bids to bring the America's Cup back to Britain. I am looking forward to being part of this journey and I hope that through the 1851 Trust we can engage and inspire a new generation into sailing along the way."
On Wednesday (11 February) Middleton visited the Bethlem and Maudsley Hospital School in south London, where she spent time with the children and even had an impromptu ukulele lesson.
The specialist school, which is supported by the Royal foundation, educates children with long term illnesses who are undergoing treatment at the nearby Bethlem Royal and Maudsley Hospitals.
Commenting on the royal visit, headteacher Dr John Ivens described the Duchess as a "good listener".
"One of the boys managed to teach the Duchess a couple of chords on the ukulele. She kept up with them. There's a career there," he joked.