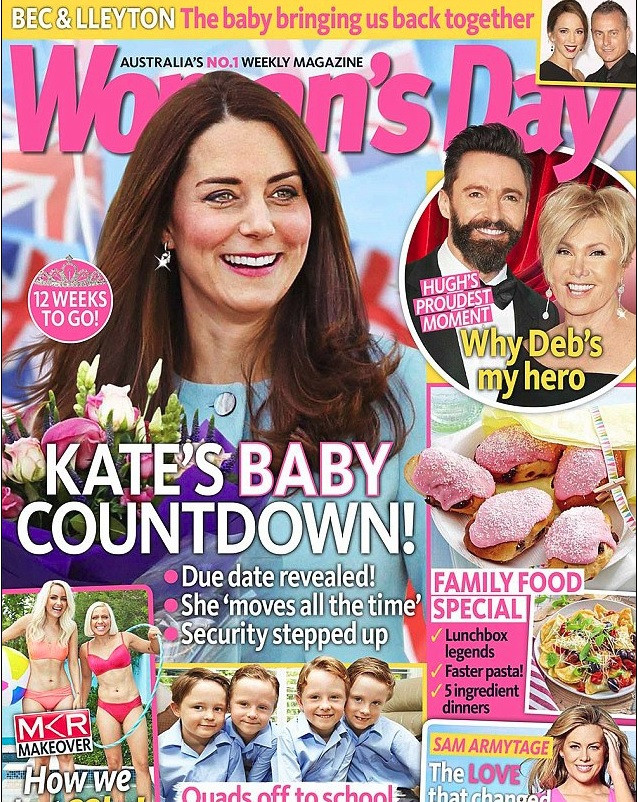 Since the topless scandal of 2012, Kate Middleton's relationship with weekly magazines has been touchy to say the least.
But following Woman's Day's decision to put an almost unrecognisable replica of the Duchess of Cambridge on its cover, there may be some irreparable damage.
The Australian publication has come under fire after putting a heavily-Photoshopped image of Prince George's mother on its latest issue.
The photo, which was originally taken when she attended the opening of the Kensington Leisure Centre in London earlier this month, showed her wearing the same light blue overcoat and holding a bouquet of roses. However her manipulated image featured an altered complexion, excessive make-up and an added sparkle to her earring.
Within hours it went viral online, with media outlets and royal watchers slamming it as "ghastly" and "creepy". Some fans even claimed that it made Prince Williams' wife look deranged.
In the wake of the backlash, the weekly went into damage control mode and uploaded a more natural-looking version of the controversial cover to its Facebook page.
Gone were her bizarre eyes and doctored skin, although her blinged-out earring stayed the same.
Unsurprisingly, this is not the time the 33-year-old fashionista, who is seven months pregnant with her second child, has fallen victim to bad Photoshopping.
In August 2012, the South African edition of Marie Claire ran a doctored image of Middleton's head superimposed on a model's body. Even though the glossy explained it was a fantasised interpretation from the outset, it didn't stop critics sounding off online.
Just a month later, US publication Star magazine raised eyebrows when it gave the royal a prominent baby bump, claiming that she was pregnant with twins.