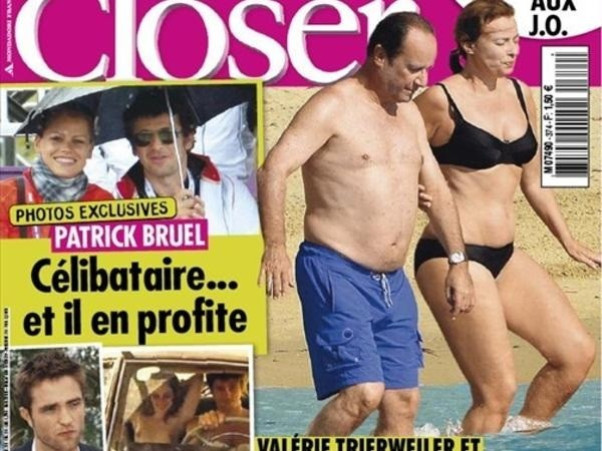 Just two weeks after losing a legal battle with the British royal family over topless pictures of Kate Middleton, France's version of Closer is facing further legal action after publishing similar photos of President Francois Hollande's partner.
Closer is being sued along with two other magazines by Valerie Trierweiler, France's First Lady, who was photographed wearing only a bikini at the official presidential residence.
Trierweiler wants £16,000 from French Closer for invasion of privacy following publication of the images, taken during her holiday with Hollande at the Fort de Bregancon.
The fort is situated in the region of Provence, which also encompasses the chateau where the Duchess of Cambridge was captured with a long lens camera during her holiday with Prince William.
Defending his decision to publish, Closer editor Laurence Pieau said: "Valerie Trierweiler is a grown woman who knew these harmless photos would be taken. We simply depicted the scene of a normal couple on a beach, it's normal to be seen in one's swimwear on a beach.
"How dare she complain? She was on a private beach in full view of the boats hired by the paparazzi. In other words, she must have known."
French Closer used a similar argument to defend their decision to publish the Kate Middleton photos. Pieau said images of the Duchess without her bikini top were "completely normal."
The royals won a privacy battle in the French court, banning further publication in France and the resale of the images.
High profile
President Hollande and First Lady Trierweiler have been the subject of concerted tabloid speculation in France for several months.
Holland left former Presidential hopeful Segolene Royal, his long-term partner and the mother of his four children, to be with Trierweiler, a former political journalist.
Trierweiler has admitted she made a mistake in sending tweets of support to Royal's rival in a recent parliamentary election.
Although she was previously considering a new career in television, Trierweiler has told supporters that she has now abandoned the idea.