Hundreds of thousands of words have been written about her in the press, she has nearly one billion results on Google and anyone with even a passing interest in current affairs would find it hard not to recognise her. Kate Middleton has become a one-name brand, Kate, along the same lines as Madonna and Marilyn.
But the public attitude towards the monarchy is changing, and specifically, towards the Duchess of Cambridge. A survey commissioned by Newsweek Europe and published by YouGov, has thrown up some surprising information - 89% of women don't want to be her even for one day, and 94% of men would rather not be married to her. In short, Britain is falling out of love with the idea of the traditional princess.
But, paradoxically, a significant proportion of respondents, 49%, said they thought she was intelligent. Even more so, 65% saw her as a potential role model and 64% believe she has power over her own life, while 74% thought she had power over William. The respondents came from all over the country, Scotland and Wales, and represented a spectrum of voters from Labour, Conservative, Liberal Democrat and Ukip.
So why don't we want to be Kate?
Scrutiny
William and Kate were first pictured together on the slopes of Klosters in 2004, and since then, she has been subjected to a life of scrutiny. Her appearance and actions are dissected on a daily basis. Most recently, the couple announced Kate's second pregnancy to a whirlwind of media frenzy.
This is one of the reasons why women simply don't want her life, Sarah Graham, former deputy editor of the Feminist Times and a freelance journalist, told IBTimes UK.
"I've never been pregnant, but I can't imagine I'd want the national press speculating over my extreme morning sickness if I was suffering from it. When Kate's second pregnancy was announced, the Daily Mail has a souvenir photo edition documenting the outfits she wore in public during her first pregnancy," Graham said.
When the first photo of Kate was published when she came out of hospital with George, the media was shocked when she still had a bump, she added.
"How brutal is that, to have expected to have lost your baby weight in less than a week? I think women see how restricted Kate is by her position, despite the enormous privileges she has by virtue of marrying into the royal family."
Powerless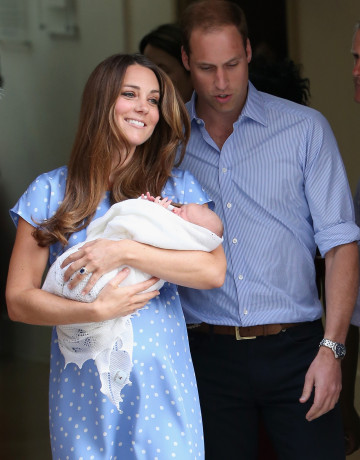 Unlike other women featured on the Daily Mail's sidebar of shame, Kate's royal position prevents her from such limitless scrutiny.
Last year, Hilary Mantel touched on the subject by saying that the press's perception of Kate was "glass-varnished" and a mannequin. Although her comments were criticised relentlessly by the media, papers have gone on to treat Kate exactly in the way Mantel described.
Speaking to Newsweek Europe, Germaine Greer, a dominating feminist voice of the 20<sup>th century, shared her view on the matter: "Kate is not even allowed to decorate her own houses. Even the wives of American presidents get to do that. The whole thing is a mad anachronism.
"The 'firm' tell us that the first born will now become the monarch regardless of sex. Well, big f***ing deal! Kate is not allowed to have an interest in modern culture, even in art – to collect, to attend openings. She is made to appear absolutely anodyne."
"She cannot do or say anything spontaneous. She has learned what she has to do and say and how to do it and say it in the approved way. Spontaneity will get her into trouble," Greer added.
Feminism
In recent years, a fresh wave of feminism has washed over the UK - that appears to have altered the British public's tolerance of the submissive princess. Women are fighting against objectification and scrutiny.
Meanwhile, Kate's story is almost the antithesis of the feminist narrative. She was - albeit unfairly - dubbed "Waity Katy" when awaiting a proposal from her prince. She then became a princess and morphed into a subservient wife and mother.
This concept is far-removed from the current attitudes towards gender roles and equality. As feminism grows in popularity, women are campaigning for equal pay, an end to misogyny and an option other than being simply a traditional housewife or mother. It is backed by high-profile women and just this week, Emma Watson launched the HeForShe campaign at the United Nations, calling for men to speak out in support of women and gender equality – the first campaign of its kind in history.
Princess Diana
Numerous comparisons have been made between Kate and Princess Diana, but the two are very different. When Kate married William, the media homed in on her dress and her frame, with not-so-quiet whispers of anorexia. It was a Diana re-run.
But unlike Diana, Kate is a woman well-briefed and carefully supervised. There is no immediate danger of Kate Middleton going off like a loose cannon; she is closely aligned with what Diana referred to as the "firm".
The "Queen of Hearts" was revered for her philanthropic nature, but also because she embodied the tale of the woman cruelly wronged. Yet with Kate there is none of this, she is polished and flawless. It is less easy to relate to her on a personal level.
"I think Kate is under pressure to avoid going the way of certain other female royals, by being too outspoken and getting themselves into trouble," Graham explained.
"So consequently she comes across in public as far more 2D and bland than most women today would want to be."