On 5 November, Kate Winslet won the Hollywood Actress Award at the 2017 Hollywood Film Awards in Beverly Hills, California, but it was definitely not the only highlight of her evening. During her acceptance speech, the Wonder Wheel actress, who won the honour for her role in the Woody Allen film, was treated to a smoking kiss on the lips from I, Tonya star Allison Janney.
Winslet, 42, was commending the work done by the other talented actresses in attendance, before she zeroed down on Janney, who has acted in films like The Help, Juno and The Girl On The Train.
"I know I don't really know you but I know I just want to be you," the Oscar winner said. "I do, or just stroke you or something. I mean, we could always kiss, maybe? Maybe?"
Seconds later, Janney got on stage and gave Winslet a searing kiss before heading back to her seat amidst loud cheering.
The 57-year-old Mom actress won two awards herself — for supporting actress and ensemble (with the rest of the cast), for I, Tonya.
Winslet smouldered at the award show, walking the red carpet in a chic Elie Saab black lace and nude fitted jumpsuit. Janney also opted for black, pairing a sparkly, fishtail floor-length skirt with a matching collared shirt.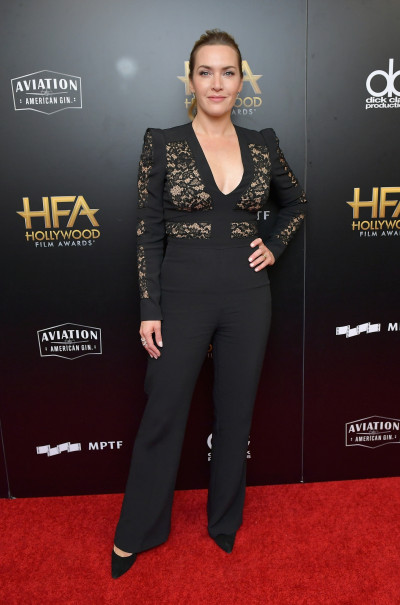 Hosted by James Corden, the night's other big winners included Mary J Blige, who took home the Hollywood breakout performance award for her movie Mudbound, Stronger's Jake Gyllenhaal won the best actor, Joe Wright earned the best director trophy for Darkest Hour and the comedy award went to Adam Sandler for The Meyerowitz Stories.