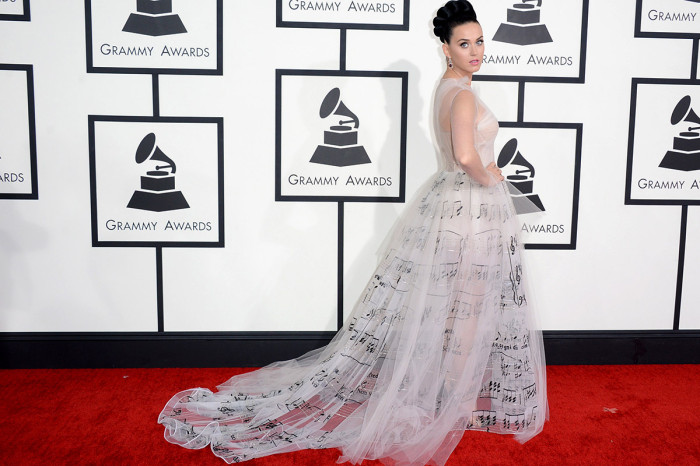 Katy Perry has finally moved on from John Mayer!
The Dark Horse hitmaker, who reportedly rekindled her romance with Thomas Pentz aka Diplo last month, was spotted enjoying a cosy dinner with him and 12 other pals at Andrea's restaurant at the Wynn hotel to celebrate a friend's birthday.
The couple ordered an assortment of sushi, ice cream and a flaming Mt Fuji dessert before they headed to XS nightclub, where Diplo took over the DJ booth, reported E! News
She was twerking and wearing a leather surgical mask, a source said.
She also had light-up neon sneakers. The only reason I even noticed her at all is because she was twerking. I walked closer, saw her eyes and hair and was like, no, it can't be. Then the mask slips down...I saw all the security around and knew for sure," the source added.

The singer, 29, and her pals sipped cocktails and danced the night away during his performance.
Katy, who split from John Mayer earlier this year, was first linked to the music producer at the Coachella Valley Music & Arts Festival in Indio, California in April.
They ended their fling a month later, but reunited for a holiday in Jamaica last month.
A source previously claimed that the duo called off their relationship because it was moving too quickly and Diplo, 35, wanted to introduce the Roar singer to his family.
The insider said: "Diplo broke up with her because she does not want to be in a serious relationship. She's doing OK and not too sad about it. They wanted different things."
Brad Goreski, fashion stylist posted this picture on Instagram.
The picture is captioned: "So fun tearing up the dance floor last night with @rivfifiat @diplo in Vegas. Photobomb courtesy of @katyperry"
The Roar singer broke up with her on-again, off-again boyfriend John Mayer, earlier this year, after she allegedly caught him cheating.
The singer previously said, "I'm living in the now and not fantasizing about the past. I have a lot of respect for John still, and I know it goes both ways. There's no bad blood, but I'm sure there will be inspired songs."