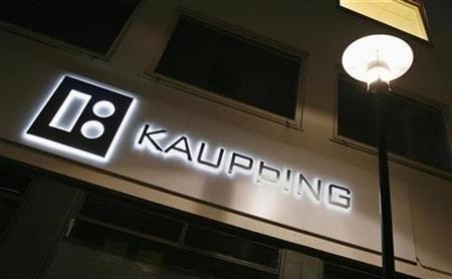 The Serious Fraud Office (SFO) has dropped its investigation into the collapse of Icelandic bank Kaupthing because of "insufficient evidence to justify its continuation", only months after the high court ruled that the SFO had made serious mistakes in obtaining search warrants.
SFO director David Green said that even though the probe had ended, the UK investigator would continue its close cooperation with the Special Prosecutor's Office in Reykjavik.
The SFO launched the investigation in December 2009 into suspected fraud committed by Kaupthing within the UK jurisdiction. The bank collapsed in October 2008.
Since then, investigations have struggled with a number of setbacks. In July, media reports said that former head of Kaupthing's UK investment banking business, Armann Thorvaldsson, and Kaupthing's ex-treasurer, Gudni Adalsteinsson, were removed from SFO investigations and police bail was dropped.
The SFO would not name the suspects but said: "Two men previously arrested and released on police bail in the SFO Kaupthing investigation are no longer suspects and police bail is to be cancelled."
A few weeks earlier, in June, entrepreneur Vincent Tchenguiz was dropped as a suspect and his bail conditions cancelled following a review by the SFO into his status.
On 31 July, the UK high court handed down its judgment following judicial review proceedings brought against the SFO by Tchenguiz and his brother Robert, and companies and trusts through which their business was conducted, and concluded: "Serious mistakes were made in connection with the application for search warrants in this case."
The SFO responded: "We note that the court declined to consider the merits of the future of the investigation, this being the responsibility of the SFO as an investigating and prosecuting authority. The SFO will continue with the investigation with renewed focus and vigour."
Origins of the Investigations
The SFO's investigation into suspected offences against the Fraud Act by Kaupthing paid "particular interest in efforts made to attract UK investors to the purportedly 'high yield' deposit account, Kaupthing Edge", it said when it announced the probe.
The criminal investigation office aimed to identify whether misrepresentations were made by the bank in the push to attract UK investors. The SFO also focused on the decision-making processes, "which appear to have allowed substantial value to be extracted from the bank in the weeks and days prior to its collapse".
An SFO spokesman said: "This is a complex investigation which crosses numerous jurisdictions. We have been working closely with the Icelandic Special Prosecutor's Office to ensure that comprehensive and robust investigations are conducted both in Iceland and the United Kingdom and to ensure that there is no duplication of effort. We will continue to do so."
The SFO estimate that more than 30,000 UK individuals, companies and organisations invested in the Kaupthing Edge deposit account.