New migrant communities in the UK feel left out of the country's political system because of a lack of representation in parliament, the chair of the influential Home Affairs Committee has warned. Labour's Keith Vaz told IBTimes UK that more needs to be done to open the House of Commons up to black and minority ethnic (BME) politicians.
"What would be good is that we have different communities represented. I'm not saying that we are worried about the numbers we have now – they are good, but they're not exceptional," the Leicester East MP said.
"And it's certainly not the same proportion as there is in the population. If we had that number, we would have about 65. There are major towns and cities across the country where there are no black or Asian MPs, male or female."
He added: "What's interesting is that the new communities that have arrived, the Somali community and the Turkish Cypriot community and others, who don't feel that they are represented so there is still much to be done. But we are still the leaders in Europe and that's a great achievement."
Vaz spoke to IBTimes UK at an Operation Black Vote (OBV) event in parliament, where MPs and peers celebrated the record number of BME representatives in the Commons (41 up from 25 in 2010). But the percentage of BME MPs (6.3%) is still behind Britain's BME population (14%).
The night saw speeches from politicians such as shadow international development secretary Diane Abbott, Tory MP Helen Grant, former Labour leadership hopeful Chuka Umunna and business secretary Sajid Javid.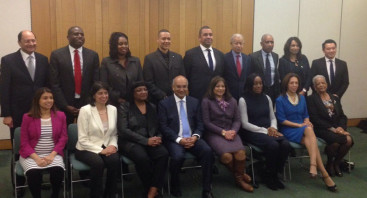 Home Secretary Theresa May, who delivered the event's keynote speech, said: "I've been determined to open up the closed shop of policing, ensure that police forces properly reflect the societies they serve."
And Sol Campbell, the former England and Arsenal football star, revealed he would run for the Conservative's Mayor of London nomination if "another scenario" comes up after failing to make the party's shortlist.
"If there is another scenario and I'm in the position and I feel I want to go for it again, I will be definitely ready. Because when I first started I was politically naked," he said.
The OBV was coincidentally held just hours after David Mundell became the first serving Conservative cabinet minister to came out as gay. The Scottish secretary, 53, explained he made the move as part of his "personal priorities" for 2016.
"I so admire the many people, young and old, who are doing this every day, uncertain of the reaction. I have been very fortunate and couldn't have had more love and support from my family and friends," a statement on Mundell's website said.
"However, making this public is something I have had to do myself. I don't know what the wider reaction will be, but I know it's the right thing for me to do." The top Tory's announcement means that there are now 33 openly gay MPs in the Commons.
Diversity in the House of Commons
BME MPs: 41
Female MPs: 191
Male MPs: 459
LGBT MPs: 33