Kell Brook has admitted he does not know if his next fight will be for a world title after he was forced to pull out of his IBF welterweight bout with Devon Alexander.
The Sheffield-born fighter was left with no choice but to pull out of his May 18 bout with Alexander after suffering a stress fracture to his metatarsal earlier in the week that prevents him from competing, the third time the much-anticipated bout has been shelved due to injury.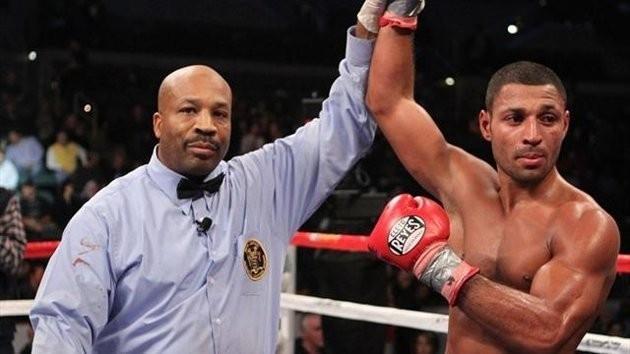 Brook admits that he is "gutted" that next month's fight in Atlantic City will not be happening, but harbours greater concerns for his long term world title ambition. Alexander's camp have suggested that next month's fight will go ahead with or without Brook, suggesting the search for another opponent is already underway, leaving the 26-year-old to wonder whether the opportunity to fight for a world title will still be there when he returns in September.
"It seems like this fight has been going on forever as I've been training since November and it's been one thing after another," Brook told Sky Sports' Ringside.
"I have a stress fracture in my fourth metatarsal and my doctor told me that there was no way I could box or run for three or four weeks and that's the time when I am getting my peak fitness.
"I would have had a week before the fight to get my sparring done and that's when you start tapering things down, and for the fight of my life I couldn't go in there less than 100 per cent.
"I should be ready [to fight again] in September time, but will it be for a world title? I don't know. Do I deserve to box for a world title in my next fight? I don't know.
"A lot needs to be talked about and we need to decide what we need to do."
Brook remains unbeaten, having claimed his 29th win of his career in his recent victory over Hector Saldivia in October of last year, a win which confirmed his number one contender status in the IBF rankings.