IBF welterweight world champion Kell Brook is prepared to watch his life flash before eyes once again in any prospective fight against Amir Khan in order to prove himself as the dominant figure in British boxing.
Brook will face mandatory challenger Jo Jo Dan on 28 March in his home town on Sheffield, in a bout expected to be the precursor to a series of megafights in 2015, with Khan, Floyd Mayweather Jr and Manny Pacquiao among the targets.
The fight will come seven months after the 28-year-old was left fighting for his life after being stabbed multiple times while on holiday in Tenerife. Brook was told he may never walk again after a severe stab wound to his leg but has recovered sufficiently in order to confirm his comeback.
Though Brook must overcome Dan at the Motorpoint Arena in two months, attention has already turned to upcoming challenges later in the year, with Matchroom promoter Eddie Hearn looking to orchestrate another money-spinning fight after the success of Carl Froch and George Groves' rematch at Wembley Stadium last July.
Khan represents the most realistic target for Brook over the next 12 months, with Mayweather and Pacquiao expected to seek alternative challenges, and the Sheffield-born fighter, having already cheated death last August, is ready to put everything on the line once again, this time in the ring.
"[Khan] should do, he should do [chase me]," Brook told reporters. "The fact is that I am champion and I am still mentioning him. Since I turned professional every conversation I've had his name as always been there and I want to put it to bed.
"I want to show everyone in Briton that I am number one. He's not on my level. Styles make fights and he did look great against Devon Alexander but he's not me.
"The night I fight Amir Khan a bit of my soul is going to be left in that ring because I am willing to die in that ring to prove to everyone. I am going to be leaving a part of me in that ring."
Khan, the 2004 Olympic silver medallist, has abandoned attempts to fight Mayweather in 2015, the final year of the unbeaten American's professional career, after several failed attempts to agree a deal.
Brook is ready for massive fights in 2015
March's bout with Dan represents the gateway to the biggest names in the welterweight division but, despite being in the shape of his life, Brook admits he is becoming distracted by the proposition of high-profile opposition later in the year.
"It is difficult [not to become distracted] because you look at those names and they're massive, massive fights, exciting fights and what you dream of as a fighter and growing up as a kid to be among those massive names that you've watched," Brook said.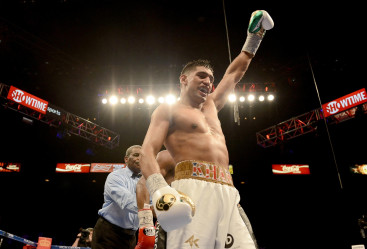 "There are three men out there, one is Floyd Mayweather, one is Manny Pacquiao and one is Kell Brook and I'm in the hottest division and I'm going to be involved in some massive fights.
"But, you've got to take care of business and you've got to concentrate on what is in front of you. Many fighters have looked past them and got beaten."
He added: "This is the perfect fight for us because it gets the mandatory out the way and then I've got nine or ten months to relax and pick some major fights.
"I don't want the easy fights, I want the Maidanas, the Khans, the Marquezs, the big stadium fights. I want to bring massive fights to the UK. I am determined to do that and you will see me in those kind of fights in the summer."
Even though Brook is still wearing the physical scars from the horror attack on the Canary Island last summer, it may be the mental effects of the incident that may have the greatest effect.
But Brook maintains upbeat. He said: "I've put that right over me. I don't let it get to me, I turn a negative into a positive. I am lucky to be here, I am lucky to look at my kids. I am here, fit and well and I don't think about it too much."