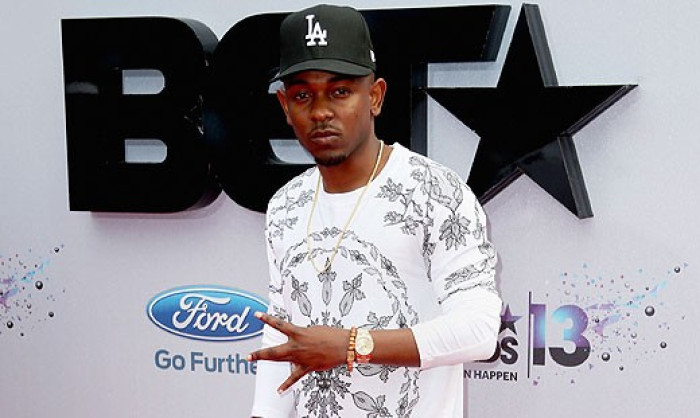 Congratulations might be in order for US hip hop star Kendrick Lamar who has reportedly gotten engaged to his longtime girlfriend Whitney Alford.
The engagement rumours were fuelled when the To Pimp A Butterfly rapper was recently seen out and about with Alford, who was wearing what appeared to be a large diamond ring on her engagement finger.
In the photo, which has been shared on social media, Lamar can be seen shaking hands with a fan while Alford walks behind with her left ring finger clearly visible.
Lamar, 27, has kept his relationship with Alford out of the spotlight since his rise to fame in 2011, but the rapper has addressed their romance during several interviews in the past. Speaking to Billboard in January, Lamar said: "I wouldn't even call her my girl. That's my best friend. I don't even like the term that society has put in the world as far as being a companion – she's somebody I can tell my fears to."
The Swimming Pools hitmaker also told neo-soul singer Erykah Badu during a chat for Interview magazine in 2013 that he has a "main" woman.
"But the main one is a friend of mine – a lady friend who has known me since high school. She has always been someone, since day one, who has said something whenever I'm an a*****e, or also if I'm doin' something positive – but more so when I'm out of my element," Lamar admitted.
It is believed that Lamar and Alford are high school sweethearts and have been dating for more than 10 years.
If the engagement rumours are true, then it is not all Lamar has to celebrate at the moment as his second album, To Pimp A Butterfly, has soared to the top of the UK charts this week.
The LP had been scheduled for release on 23 March but it was given a surprise early release on 16 March. According to the Official Charts Company, To Pimp A Butterfly pipped Sam Smith's unstoppable album, In The Lonely Hour, to the top spot by an additional 572 copies.