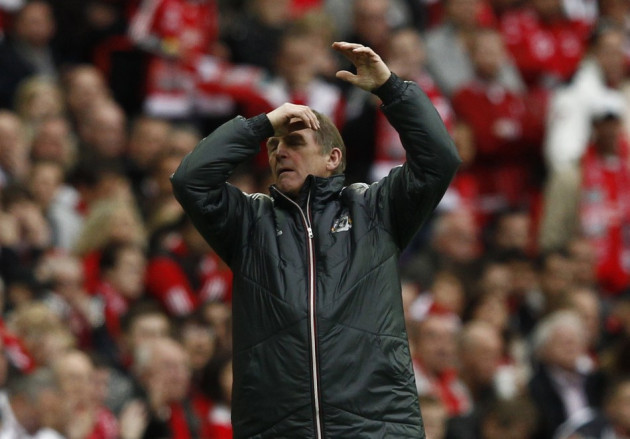 Liverpool manager Kenny Dalglish has left the club after meeting the club's owners, Fenway Sports Group.
Kenny Dalglish travelled to Boston on Monday to deliver his end-of-season review and discuss his future with John W. Henry and Tom Werner following the final game of the season at Swansea City.
Defeat at the Liberty Stadium meant Liverpool finished the campaign in eighth position, their worst league finish for 19 seasons. Having won just 14 of their 38 fixtures the performance of Dalglish and his coaching staff had come under increased scrutiny and the Scot appears to have paid the ultimate price for a poor campaign.
Following Sunday's defeat to Swansea Dalglish insisted he was going nowhere and said: "I expect the owners to have more dignity and integrity than to believe a story in a newspaper."
But it appears the club's owners disagreed with Dalglish's assessment of their season and was informed of their decision in Boston on Monday.
Dalglish travelled to the United States with assistant manager Steve Clarke, initially to discuss plans for the club's pre-season, but also to ascertain his long-term future at the club.
But Henry and Werner were troubled by Liverpool's inconsistent league form and failure to qualify for the Champions League.
Dalglish returned for a second stint as Liverpool manager in the aftermath of Roy Hodgson's departure in January 2011, initially on a caretaker basis.
He was made permanent manager in May on a three-year contract but after investing £120m in new players the club struggled to challenge for a top-four place and eventually finished below rivals Everton for the first time since 2005.
Principal owner John W. Henry said: "Kenny will always be more than a championship winning manager, more than a championship winning star player. He is in many ways the heart and soul of the club. He personifies everything that is good about Liverpool Football Club. He has always put the Club and its supporters first. Kenny will always be a part of the family at Anfield.
"Our job now is to identify and recruit the right person to take this Club forward and build on the strong foundations put in place during the last 18 months."
Dalglish said he is proud to have served such a great club: "It has been an honour and a privilege to have had the chance to come back to Liverpool Football Club as Manager.
"I greatly appreciate the work that Steve, Kevin, the players and all of the staff put in during my time and feel proud that we delivered the Club's first trophy in six years winning the Carling Cup and came close to a second trophy in the FA Cup Final. Of course I am disappointed with results in the league, but I would not have swapped the Carling Cup win for anything as I know how much it meant to our fans and the Club to be back winning trophies.
He added: "Whilst I am obviously disappointed to be leaving the football club, I can say that the matter has been handled by the owners and all concerned in an honourable, respectful and dignified way and reflects on the quality of the people involved and their continued desire to move the football club forward in the same way as when they arrived here.
"I would like to thank all of the staff at the Club for their effort and loyalty. I said when first approached about coming back as Manager that I would always be of help if I can at any time and that offer remains the same.
"Finally, I want to put on record my heartfelt gratitude to Liverpool's fans, who have always given me and the Club their unwavering support. Without them neither the Club nor I would have achieved anything."