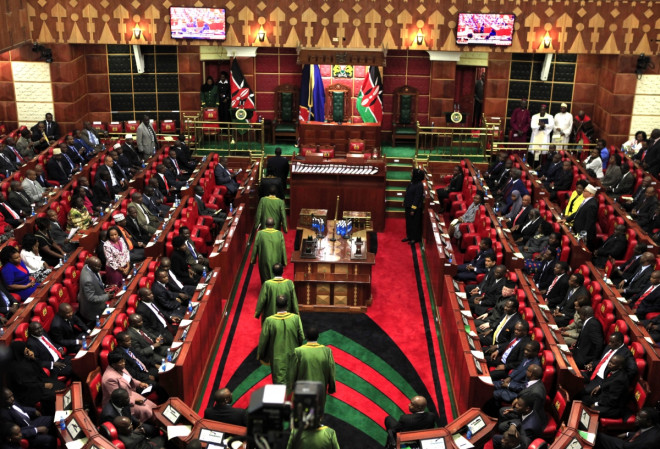 Aden Duale, Kenyan majority leader in the National Assembly, has equated homosexuality with terrorism, saying it is a social problem that needs to be tackled with as much seriousness.
Duale updated parliament with reports that children were now publicly testifying about forced lesbianism and sodomy by fellow students at secondary school levels in Kenya, according to All Africa.
"We need to go on and address this issue the way we want to address terrorism. It's as serious as terrorism. It's as serious as any other social evil," said Duale.
Another MP called on religious leaders to sensitise children and the general population to the issue.
"I am sure that if our religious leaders are watching me, that is where we should start. We should preach against this and preach the holy books, the leaders have a role to do civic education," the MP said in his address.
Duale said in a statement released on behalf of the Internal Security Ministry that as "a God fearing nation, we must at all times ask our government to implement the law to ensure that we reduce this vice in our society".
"I want to warn you that this is a Western agenda and if go further some of you will miss a visa, that is how serious it is to this western government."
During the parliamentary session, the ministry noted that since 2010, Kenya had convicted 595 people of bestiality and gay sex.
Duale did not advocate any additional legal sanctions on gays, saying that the existing laws are sufficient to deal with them.
Neighbouring Uganda has made some homosexual acts punishable by life imprisonment, which led to suspension of aid by the international community.
"We do not need to go the Uganda way, we have the constitution and the penal code to deal with homosexuality, and so this debate is finished, we will not be enacting any new tougher laws."
Several anti-gay groups have come up in the country in recent years, Reuters reports. "The Save Our Men Initiative" has launched a "Zuia Sodom Kabisa" campaign, which in Swahili, means: "Prevent Sodom completely, to save the family, save youth, save Kenya."