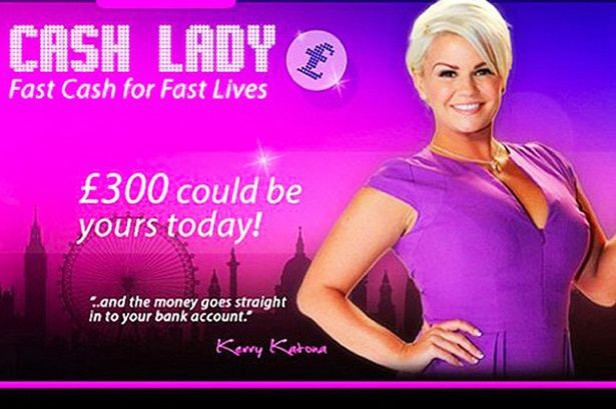 Kerry Katona has been dropped as the face of payday lender Cash Lady after declaring herself bankrupt for the second time in five years.
The Insolvency Service confirmed that the former pop star and reality TV star filed a petition at Wigan County Court earlier this week. Her money troubles are believed to be due to unpaid debts.
In the wake of the bankruptcy, PDB UK Ltd, which trades under the name Cash Lady, have ended their professional relationship with the star.
A spokesman for PDB UK Ltd said: "We were sorry to hear about Kerry's current financial situation.
"Clearly, as a business, we are committed to responsible lending, so it is with sadness that we will not be able to continue using Kerry as the face of Cash Lady.
"We enjoyed working with Kerry a lot, and we wish her all the best in her future endeavours."
Katona's money troubles are well known. Almost five years she was first made bankrupt in August 2008 for failing to deliver the final £82,000 of a £417,000 tax bill.
She appeared to get her life back on track after a stint on Celebrity Big Brother and a recent reunion with Atomic Kitten for ITV2 show and tour The Big Reunion.
In May, Cash Lady's controversial TV ad campaign was banned by the Advertising Standards Agency for suggesting that debt could help fund a celebrity-style lifestyle.
Referring to her own financial woes in the banned commercial Katona said: "We've all had money troubles at some point, I know I have. You could see your bank and fill in loads of forms, but is there an easier way to get a loan... So if you need extra cash go to www.cashlady.co.uk. Fast cash for fast lives."
The singer has since addressed her money problems on Twitter.
"Hold your head high and be proud, never be ashamed! Always try your best and believe in yourself! Have a great day xxx," she told her 256,000 Twitter followers.
"No matter what life throws at you, hold your head high and know you've done your best!! :-) xxxx."