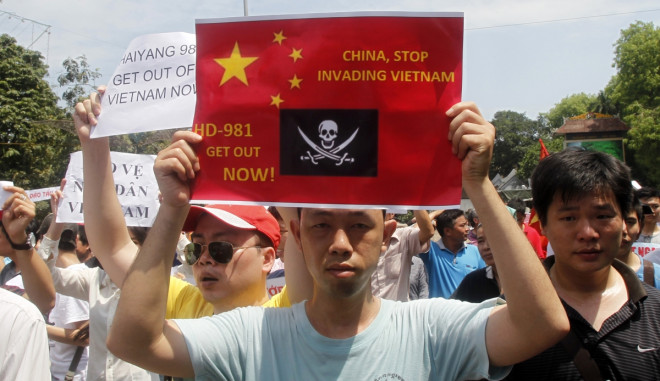 US Secretary of State John Kerry told his Chinese counterpart China's behaviour in the South China Sea last week was "provocative," a State Department spokeswoman said on Tuesday.
"He (Kerry) said China's introduction of an oil rig and numerous government vessels in waters disputed with Vietnam was provocative," Jen Psaki told reporters.
"He urged both sides to de-escalate tensions, ensure safe conduct by their vessels at sea, and resolve the dispute through peaceful means in accordance with international law."
Chinese Foreign Minister Wang Yi told his United States counterpart John Kerry to be "objective" regarding the South China Sea dispute, a government spokesperson said on Tuesday.
Wang urged the American Secretary of State to speak and act cautiously when the two spoke this week, foreign ministry spokesperson Hua Chunying told reporters.
"We hope that the U.S. side can carefully reflect - if they really hope for the Pacific Ocean to be peaceful, what kind of role do they actually want to play?" Hua added.
Tensions escalated in the region last week after China deployed a huge oil rig in a disputed part of the South China Sea that Vietnam claims as its own territory. Vietnam and China accused each other of instigating clashes by ramming each other's ships close to the Paracel Islands.
The waters surrounding the chain of islands are thought to be rich in resources although they remain largely unexplored. China and Vietnam shared governance of the islands until they fought a brief war in 1974, after which China assumed control of the whole chain. Vietnam has since renewed its claim to the islands.
China last week blamed the United States for provoking tensions in the region by encouraging countries to engage in dangerous provocative behaviour.
Before meeting with his counterpart from Singapore on Monday, John Kerry said the US was concerned over China's "challenge to the Paracel Islands."
"We are particularly concerned – all nations that are engaged in navigation and traffic within the South China Sea, the East China Sea, are deeply concerned about this aggressive act," Kerry said.
"We want to see a Code of Conduct created; we want to see this resolved peacefully through the Law of the Sea, through arbitration, through any other means, but not direct confrontation and aggressive action," he added
Vietnam's Prime Minister Nguyen Tan Dung said on Monday Vietnam had acted with "utmost restraint" and attempted every means of dialogue to request China remove the oil rig.