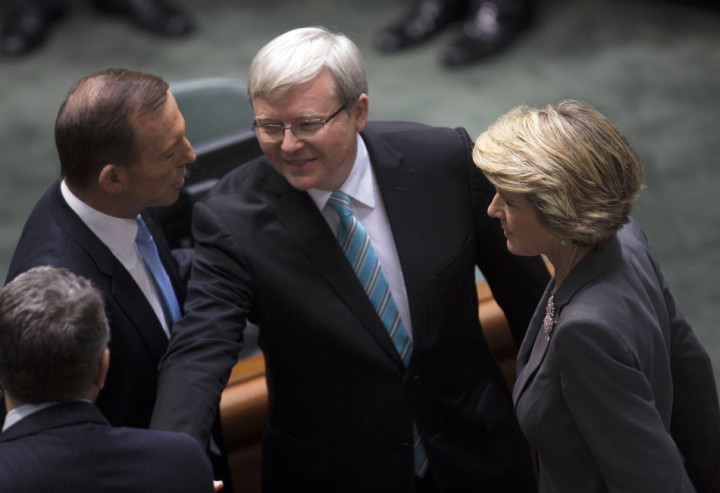 Kevin Rudd has been sworn in as prime minister of Australia after ousting the woman who threw him out of the job three years ago in a dramatic political manoeuvre.
Rudd, whose party leadership coup at Julia Gillard's expense has been described by commentators as "vilifying" and a "political backstabbing", has called for Australian lawmakers to be kinder with each other.
"As we all know in this place, political life is a very hard life; a very hard life indeed," Rudd told Parliament in his first address as PM.
"Let us try - just try - to be a little kinder and gentler with each other in the further deliberations of this Parliament."
Gillard resigned as prime minister after losing a closed-door vote of confidence among Labor lawmakers in Canberra by a margin of 57 to 45.
The first female PM in Australia's history was under growing pressure from party members after Labor fell behind the opposition Liberal Party of Australia, led by Tony Abbott, in opinion polls three months ahead of elections.
After the vote, Gillard stood by her pledge to quit politics if defeated and handed her resignation to Governor-General Quentin Bryce, who then commissioned Rudd as prime minister.
In Parliament Rudd praised Gillard's "major reforms" on issues such as industrial law and school literacy testing, and "her great work as a standard bearer for women."
He was then confronted by Abbott who demanded an explanation of why Gillard was deposed and also called for an election date to be confirmed.
"Politics is a tough business and sometimes it is far more brutal than it needs to be," Abbott said.
"This is a fraught moment in the life of our nation. A prime minister has been dragged down; her replacement owes the Australian people and the Australian Parliament an explanation," he added.
Rudd replied the ousting of Gillard - who was sitting in the chamber on the backbench - was an internal party matter and refused to set an election date.
The vote was scheduled for September but Rudd, a Mandarin-speaking former diplomat, might be forced to call early elections as his government holds only a small parliamentary majority.
Labor holds 71 of the 150 House of Representatives seats, and Gillard was only able to govern with support from some independents and the minor Greens party.
Anthony Albanese was sworn in as deputy prime minister and Chris Bowen was sworn in as treasurer in the new government.